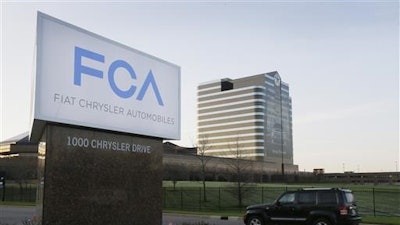 AP Photo/Carlos Osorio, File
DETROIT (AP) — Federal prosecutors are investigating allegations that Fiat Chrysler violated securities laws by getting dealers to falsely report sales of new cars in order to inflate the company's numbers.
The company confirmed Monday that it is cooperating with investigations by the Justice Department and the Securities and Exchange Commission.
The probe apparently stems from a lawsuit filed in January by the Illinois-based Napleton dealership group alleging that competing dealers were given thousands of dollars to report false sales. The group alleges that an FCA executive offered Napleton $20,000 to falsely report sales of 40 new vehicles. The lawsuit also alleges that the false sales give the appearance that FCA's performance is better than it actually is.
The Italian-American automaker with U.S. operations based in Auburn Hills, Michigan, has reported 75 straight months of year-over-year sales increases since it left bankruptcy protection in 2009, a lengthy string for any automaker.
The SEC and Justice Department in Washington would not comment on the probe.
FCA's statement says that it records revenue in its quarterly and annual financial statements based on shipments to dealers and customers and not on reported vehicle sales to end customers. But the statement doesn't address the company's monthly sales reports.
The Napleton lawsuit alleges that a competing dealership reported 85 false new vehicle sales and got tens of thousands of dollars in return. It also says FCA offered to pay the $20,000 to Napleton disguised as co-operative advertising support.
FCA has said the lawsuit is without merit and pledged to defend itself.
Karl Brauer, senior analyst for Kelley Blue Book, doesn't think Fiat Chrysler cheated a huge amount to keep its streak of monthly sales increases going. But he said there may have been some questionable sales added to months when the streak was in danger of ending.
Exactly what constitutes a sale has been defined loosely in the auto industry for years, said Brauer, who has been suspicious of wide swings from month to month by many automakers. "The term 'sale' should almost always be in quotes," he said.
The impact of the probe on Fiat Chrysler depends on what the investigators find, Brauer said. If it leads to a tightening of the definition of sales and no widespread fraud is found, then the impact will be minimal. But the company could face penalties if it recorded sales "in ways that not remotely, under any definition, could be called sales."
Fiat Chrysler's U.S. shares fell early in the day to $6.55 after news of the investigation was disclosed. But they rebounded by late afternoon and closed down only 2 cents at $6.73. In the past year the shares have traded in a range from $5.45 to $10.93.
The company said it confirmed the probe after media reports about it. Bloomberg News reported the investigation earlier Monday.