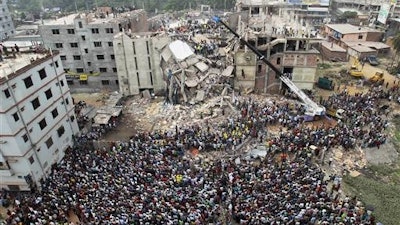 AP Photo/A.M.Ahad, File
DHAKA, Bangladesh (AP) — A Bangladesh court on Monday indicted 41 people for murder in the deaths of more than 1,100 people in the collapse of a building that housed five garment factories and became known as the country's worst industrial disaster.
Investigators initially said those accused of wrongdoing in the 2013 collapse of the Rana Plaza building would be charged with culpable homicide, which carries a maximum punishment of seven years in jail. But they later changed the charges to murder due to the gravity of the disaster.
Masud Rana, who owned the building outside Dhaka, and 33 other people pleaded not guilty when the charges against them were read out in court.
Another seven who absconded will be tried in absentia, said Mizanur Rahman, a public prosecutor.
District Judge S.M. Kuddus Zaman announced their trial will begin Sept. 18.
Those found guilty of murder could face the death penalty as a police report submitted to the court called the deaths a "mass killing." About 2,500 people were injured in the April 2013 disaster.
The defendants include Rana's parents and the owners of the five factories housed in the building.
Investigators from Bangladesh's Criminal Investigation Department said the change from culpable homicide charges came after the investigation found that Rana, his staff and the management of the five factories had forced the workers to enter the building the day of the collapse despite their unwillingness to work after the building had developed major cracks a day before.
The collapse highlighted the grim conditions in Bangladesh's garment industry.
Low wages in the South Asian country have led global brands and retailers to prefer Bangladesh over China, the leading apparel exporter in the world. Bangladesh has the world's second-largest garment industry with nearly 4,000 factories employing about 4 million workers, mostly women.
The building collapse triggered uproar at home and abroad, with a call for reforms in a sector that helps Bangladesh earn more than $20 billion a year from exports, mainly to the United States and Europe.