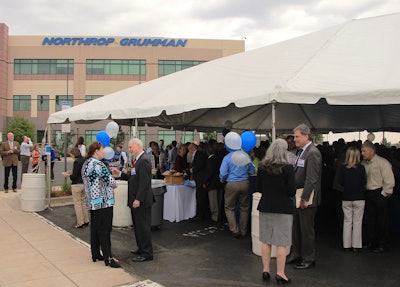 Northrop Grumman
Northrop Grumman has exceeded $1 billion subcontracted to small businesses under the U.S. Missile Defense Agency's Joint National Integration Center Research and Development Contract (JRDC).
The company celebrated the milestone with two events last month – in Huntsville, Alabama and Colorado Springs, Colorado – as small businesses in those two areas were the most significant contributors to the JRDC.
Northrop Grumman awarded 49 percent of its JRDC subcontracting effort to small businesses. The small business teammates and suppliers are in various classes of small business concerns, including small disadvantaged business, woman-owned small business, HUBZone small business, veteran-owned small business and service-disabled veteran-owned small business.
During government fiscal year 2015, Northrop Grumman subcontracted more than $7 billion to approximately 9,500 suppliers. Some 37 percent, or $2.68 billion of those subcontracted dollars went to small business suppliers.
Northrop Grumman has met and exceeded the 23 percent small business statutory goals for more than 10 consecutive years and has received numerous awards for its global supplier diversity programs.
As the Missile Defense Agency's prime contractor of the JRDC since late 2005, Northrop Grumman leads the highly interdependent activities necessary to enhance the Ballistic Missile Defense System (BMDS) and bring capability improvements to warfighter operations, including: BMDS-level modeling and simulation, ground and flight tests, war games, military exercises, mission-critical operations and enterprise networks.
Those efforts involve operations at Schriever Air Force Base, Colorado; Huntsville, Alabama; Fort Belvoir, and many other global locations.