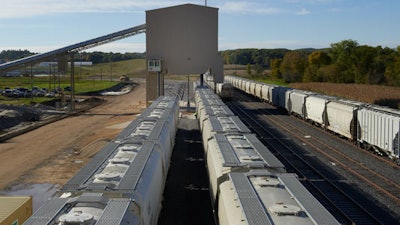 Smart Sand
LA CROSSE, Wis. (AP) — A mining company plans to construct a $10 million railroad loading terminal near Tomah to ship fracking sand to new markets.
Texas-based Smart Sand Inc.'s plans call for nearly 7 miles of looped track that could accommodate four trains longer than 1.5 miles, the La Crosse Tribune reports.
The facility would handle sand from the company's 1,118-acre mine in nearby Oakdale. The mine sits along Canadian Pacific tracks, which provide a connection to North Dakota oil wells. The company says the new terminal would open up access to Union Pacific lines, creating a connection to customers in Texas, Oklahoma and Colorado.
"Having the option to ship direct to customers, on multiple rail lines, from one facility would provide a significant cost savings," the company said in its permit application.
The terminal would sit on 85 acres of what is now farmland, although the company has asked state and federal officials for permission to fill about 2.5 acres of wetlands. The state Department of Natural Resources has given its tentative OK for a wetlands permit but the company still needs U.S. Army Corp of Engineers approval. That body will accept public comments on the proposal through Aug. 8.
Sand would be shipped by semi-trailers about four miles from the mine to the loading site. The company hasn't identified any routes, but Monroe County officials said the trucks would run on a county highway through Oakdale. According to village records, Smart Sand would run up to 20 trucks an hour during peak times.
Oakdale officials fear the traffic would deter over-the-road truckers on Interstate 90/94 from using the two truck stops that are the community's only businesses. But village clerk Paulette Bradley said the village doesn't control the road and can't afford to take it over from the county.
"We have no say," she said.
Industry experts predict that sand companies must be located on major rail lines and be able to load trains to survive a current slump in oil prices. The low prices have caused many wells to go idle and demand for silica sand has plummeted. Since last year Wisconsin producers have announced plans to lay off 310 workers; Smart Sand hasn't notified the state of any layoffs, however.