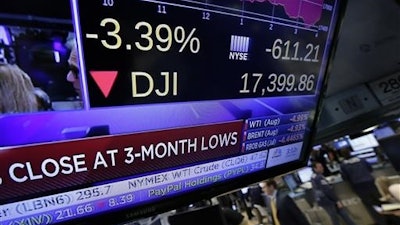 AP Photo/Richard Drew
FRANKFURT, Germany (AP) — Britain's vote to leave the European Union adds a heavy dose of uncertainty to a world economy that is still struggling to reach full speed years after the global financial crisis.
The most immediate pain will be felt in Britain. But economists say the ripples could be felt much farther afield.
Companies will wonder whether to invest or locate in Britain during the yearslong negotiations to define new trade conditions with the EU, its biggest business partner. Across Europe, trade and immigration may lose ground to nationalism and protectionism.
The EU itself, minus market-oriented Britain, may turn to more government intervention and regulation. Other countries may eventually seek to leave the bloc.
"A new set of economic circumstances has been created, which the world will have to deal with," said India's Finance Minister Arun Jaitley. "Volatility is the new norm. And therefore, economies have to learn to live with crisis after crisis."
The global economy isn't in crisis at the moment, but growth is muted and uneven among countries. The International Monetary Fund forecasts growth of 3.5 percent for this year. The Chinese economy is slowing, the U.S. recovery has hit a slower patch, major emerging economies like Brazil are in recession, and Europe and Japan are stagnating.
That's not good enough to bring people out of poverty or get them jobs. Unemployment remains at a high 10.2 percent in the 19 countries that use the euro. In the U.S., it's a lower 4.7 percent. But the labor participation rate hasn't recovered since the recession of 2008-9, indicating that many workers have not benefited from the stronger U.S. recovery.
Here's a look at what the vote means for the world economy:
___
ECONOMIC GROWTH
The most direct economic pain will be felt by the U.K., while the direct consequences for the world economy are likely to be more moderate. Moody's Analytics estimates that global economic output would be 0.25 percent smaller after five years than it otherwise would have been, while the EU would be a full percent smaller and the U.K. 4 percent.
Then there are indirect effects. Stock market plunges can make people feel poorer and less likely to spend. Uncertainty can make executives put off investments in new production.
"Uncertainty certainly impedes investment decisions, and with few signs of any pickup in the global economy we're probably going to see a slower rebound in capital spending," said Sara Johnson, senior research director of global economics with IHS Global Insight.
___
CENTRAL BANKS
The market plunges after the vote are one reason for the world's central banks to keep their rock-bottom interest rates in place.
"Brexit could be a game changer for central bank thinking," Megan Greene, chief economist at Manulife Asset Management, wrote in a research note.
The Federal Reserve is less likely to raise short-term interest rates this year — and might even have to cut them. Greene predicted that the Bank of England could have to print money to finance government spending, tax cuts or both and that the Bank of Japan could follow. The European Central Bank might expand its current bond-buying stimulus program.
___
THE LONDON LILY PAD
Many big companies use the U.K. as a base for their European operations. London's strength as a banking center is in part based on easy access to financial markets in Europe. Regulatory approval to do business in the British capital means an all-access pass to the 27 other EU countries, a process called passporting.
Global banks like JP Morgan Chase have already said that they would have to move jobs from London to the European mainland if Britain leaves the EU.
___
CONSUMERS, TRAVELERS
The pound and euro both dropped Friday, which should make British and eurozone exports cheaper overseas. American travelers heading to Britain and the rest of Europe are going to find less-expensive meals, hotels, souvenirs and museum admissions because the U.S. dollar will go further. Airfare for peak summer months probably won't dip, but any taxes and fees levied in Europe will be cheaper. For instance, all coach passengers leaving the U.K. for the U.S. pay 73 pounds for the Air Passenger Duty. That tax is now cheaper.
Among retailers, analysts expect luxury sellers — which have already seen weaker demand — to be hurt the most.
London luxury shops could suffer if banks move out, taking big-spending employees with them, said Hana Ben-Shabat, a partner at A.T. Kearney. In the U.S., stores like Tiffany and Macy's, which draw a lot of British tourists to their flagship New York stores, could be hurt.
Restaurant companies with a significant presence in the U.K. and Europe could be hurt, said David Palmer, an RBC Capital Markets analyst. He said the U.S. groups with the most exposure are McDonald's Corp., and to a lesser degree Yum Brands Inc. (Pizza Hut, KFC), Restaurant Brands International Inc. (Burger King), and Starbucks Corp.
Overall, said Steve Barr at PwC, any prolonged declines in the stock market could make shoppers wary about spending.
___
TRADE
The impact on U.K.-EU trade would depend on how quick and amicable negotiations are on a new set of relations. Britain could wind up like Switzerland, which simply adopts EU requirements without having any say in how they are decided. Britain sends 44 percent of its exports to the EU, less than any other member country but still significant.
The price for continued market access, however, could be allowing free movement of workers. A desire to control immigration was a major force behind the "leave" campaign, so it's unclear if such an agreement could ever be reached.
"If the U.K. takes a tougher stance on immigration, for businesses this will be a disaster as the EU will retaliate," said Christian Stadler, professor of strategic management at the Warwick Business School in Coventry, Britain. "Access to the EU will become difficult. For some companies, this means doing business in Europe won't be attractive anymore."
"Others will have to deal with complicated bureaucracy," he said. "In short: a nightmare."
___
MARKETS
Stock markets plunged Friday, with Germany's DAX falling almost 7 percent, the Dow Jones industrial average 3.4 percent and Britain's FTSE 3.2 percent. The pound hit a 31-year low.
Outside the U.K., however, that turmoil may not last. Analysts at Oxford Economics think the global market reaction and fears of an EU breakup are exaggerated.
Today's drops "are hard to square with the likely long-term impact on the U.K. — at worst a few percent of GDP in the long run in an economy that is only 3.5 percent of world output."
___
POLITICAL DOMINOES
The British vote would have a much broader impact if it becomes a political turning point away from trade and economic integration. In economic terms, free trade is considered a plus for growth. It should mean bigger markets, lower consumer prices and more competition. Yet those advantages can quickly be forgotten if people feel that the benefits are not fairly distributed, or that their jobs are left unprotected and move to other, lower-cost countries.
Many think a British exit could embolden anti-EU, anti-immigration political movements such as the National Front in France. Its leader, Marine Le Pen, is already considered likely to make the final round of presidential elections next year. Geert Wilders, head of the anti-Islam, anti-EU Freedom Party in the Netherlands, called Friday for a referendum on the EU there, too.
And it goes beyond Europe. Donald Trump, the likely Republican nominee for U.S. president, has described the free trade agreement among Canada, the U.S. and Mexico as "a disaster." Likely Democratic nominee Hillary Clinton has said the U.S. should "renegotiate deals that are not working for Americans" and if necessary reject a proposed trade deal with Asian countries if it doesn't show clear benefits for raising wages and jobs.
"In the U.S., there is a clear parallel between the rise of Donald Trump ... and what is going on in the U.K. and the rest of Europe," said Rob Carnell, chief international economist at ING Commercial Banking. "The recovery has left large swathes of the population behind, and this is their protest."
"I think this vote has been a vote against open and integrated societies, quite frankly," said Guntram Wolff, director of the Bruegel think tank in Brussels. "And I think the sentiment in many other European countries ... would be to say, we will not counter that, we are so fearful, that we will basically try to counter populism by following the same road and be more protectionist."
___
Associated Press writers Joe McDonald in Beijing, Paul Wiseman in Washington and Scott Mayerowitz, Anne D'Innocenzio and Candice Choi in New York contributed to this report.