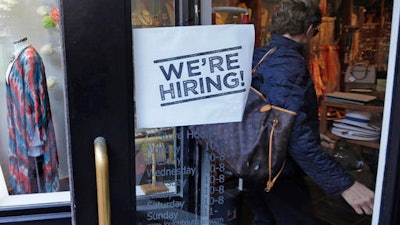 AP Photo/Charles Krupa, File
WASHINGTON (AP) — An unexpectedly bleak May jobs report has suddenly muddied the outlook for the U.S. economy.
Until this week, the Federal Reserve had seemed poised to raise interest rates perhaps as soon as June 15 — a sign of confidence that the economy was strengthening after struggling just to grow early this year.
Any such certainty vanished at 8:30 a.m. Eastern time Friday.
That was when the government reported that employers added a scant 38,000 jobs in May — the fewest since 2010 and far less than economists had expected. What's more, the government cut its estimate of hiring for March and April by a combined 59,000.
"We had been expecting a June rate hike," said Beth Ann Bovino, U.S. chief economist at Standard & Poor's Ratings Services. "Now it seems like the Fed can take a breather" and await other economic statistics to help clarify the economic picture.
Other recent data are also sending mixed messages to economic policymakers, investors and corporate executives.
Consider:
Jobs
Friday's jobs report was unambiguously ugly.
"It's an across-the-board disappointment," said Patrick O'Keefe, director of economic research at the accounting firm CohnReznick.
The unemployment rate sank to an eight-year low 4.7 percent — but only because 458,000 Americans stopped looking for work and were no longer counted among the unemployed. Many of them had likely grown discouraged over failing to find a job.
And May's slowdown in hiring wasn't a one-month wonder. The economy has now added just 347,000 jobs over the past three months — the weakest three-month stretch since 2012.
The monthly jobs reports have "been flashing a warning signal for quite some time," said Sung Won Sohn, economist at California State University Channel Islands.
Complicating the picture, though, is that other reports suggest that jobs remain plentiful — or at least secure. Applications for unemployment benefits — a reflection of the pace of layoffs — fell again last week and have stayed below 300,000, a historically low number, for 65 straight weeks, the longest such streak since 1973.
And the government reported last month that job openings totaled nearly 5.8 million in March, the most since July. That kind of figure is normally a sign of a robust job market.
Consumers
Despite the slumping job growth, American consumers so far appear unfazed. At least by the most recent barometer, that is: Consumer spending surged in April by the most in more than six years. That is especially important because consumer spending accounts for about 70 percent of U.S. economic activity.
Low gasoline and historically low borrowing rates have encouraged people to spend. In a speech Friday, Lael Brainard, a member of the Fed's Board of Governors, called those spending figures "encouraging" but cautioned that "the data relevant for second-quarter growth are still relatively sparse."
Can consumer spending prove resilient even if the job market continues to lose vigor?
Maybe not: The Conference Board reported Tuesday that its index of consumer confidence fell last month to its lowest level since November.
Manufacturers
Recent reports suggest that American manufacturing is picking up strength. Yet the details aren't so clear.
A survey released this week by the Institute for Supply Management showed that American manufacturing has expanded for three straight months: The institute's manufacturing index rose to 51.3 in May, and anything above 50 signals growth.
The index had been stuck below 50 from October through February as factories struggled with economic weakness abroad and a stronger dollar, which made their goods pricier overseas. The dollar has fallen against major currencies since late January, thereby giving factories some relief.
But the ISM manufacturing report wasn't quite as rosy as it looked. New orders and production grew more slowly in May. Only an increase in deliveries from suppliers buoyed the index.
Likewise, an impressive-looking increase in orders to U.S. factories in April — the best in six months — came mainly from the volatile commercial aircraft industry. Aircraft orders can fluctuate wildly from month to month. Orders in a more crucial category that tracks business investment plans actually fell, the government said Friday.
Services
Services companies have been a source of U.S. economic strength. And ISM reported Friday that the service sector expanded in May for a 76th straight month.
But growth was the slowest in more than two years. And a measure of employment fell for the second time this year. Steve Murphy, U.S. economist at Capital Economics, said the ISM's findings were "clearly disappointing ... The underlying details of the report were weak across the board."
And that weakness was reflected in Friday's jobs report: Service sector jobs increased by just 61,000 in May, the fewest since June 2012.