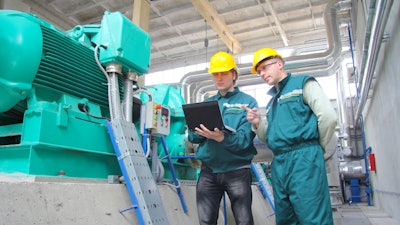 WASHINGTON (AP) — American factories expanded for the third straight month in May, helped by a weaker U.S. dollar.
The Institute for Supply Management said Wednesday that its manufacturing index rose to 51.3 last month from 50.8 in April. Anything above 50 signals growth.
The index was stuck below 50 from October through February as American factories struggled with economic weakness abroad and a strong dollar that made U.S. products more expensive in foreign markets. The dollar has fallen against other major currencies since the end of January, giving factories some relief.
"Manufacturing has stabilized," Ian Shepherdson, chief economist at Pantheon Macroeconomics, wrote in a research note. "The weaker dollar this year has already made a material difference to exporters."
Still, new orders and production grew more slowly in May. Export orders and a measure of employment were unchanged. The index was pulled up by an increase in deliveries from suppliers. Overall, 12 of 18 manufacturing industries reported growth last month, led by wood products manufacturers and textile mills.
The ISM, a trade group of purchasing managers, surveys about 200 U.S. companies each month.
American manufacturing has been sending out mixed signals recently.
The Commerce Department reported last week that orders to U.S. factories for long-lasting manufactured goods rose 3.4 percent in April, the most since January. But the details of the durable goods report weren't as positive. Most of the April strength came from the volatile commercial aircraft category, and a measure that tracks business investment fell for the third straight month.
The U.S economy got off to a rough start this year, growing at a lackluster 0.8 percent annual pace from January through March.
Manufacturers' troubles weighed on growth. But economists expect the growth rate to rise to perhaps 2.5 percent in the second quarter as a robust American job market gives consumers the incomes and confidence to spend more.
Employers have added a healthy 2.7 million jobs over the past year.