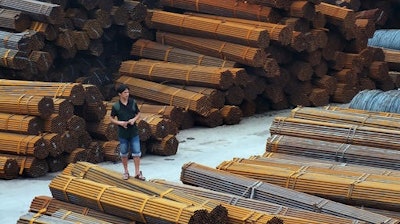 AP file
BEIJING (AP) — U.S. regulators are investigating whether Chinese steelmakers used stolen American trade secrets in a case that adds to tensions over accusations Beijing is flooding global markets with low-cost steel.
The International Trade Commission said Thursday it was responding to a complaint by U.S. Steel Corp. that competitors benefited from information about steel production that was stolen in 2011 by Chinese government hackers. It said possible responses requested by U.S. Steel include blocking imports of carbon and alloy steel made using the stolen knowledge.
U.S. Steel's complaint in April also accused Chinese producers of colluding to fix prices and concealing the origin of steel supplies, allowing them to "flood the U.S. market and destroy competitors."
The Chinese Ministry of Commerce on Friday rejected the accusation as unfounded and "obvious trade protectionism." It said it would encourage the Chinese companies to defend themselves.
Beijing faces mounting criticism from the United States and Europe that it is exporting steel at unfairly low prices to clear a backlog in its glutted home market. Western governments say that threatens thousands of jobs.
Twice in the past 10 days, Washington has announced punitive duties against Chinese steel imports in two separate cases to offset what regulators said were subsidies and improperly low prices.
The European Union launched its own investigation of Chinese steel exports in early May following protests by steelworkers.
The hacking of U.S. Steel in 2011 was one of a series of cyberattacks cited by American prosecutors in a 2014 indictment of five Chinese military officers who were accused of stealing trade secrets from major companies.
Chinese mills cited in U.S. Steel's complaint are among the biggest global producers, including Hebei Iron and Steel Group and Baosteel Group.
The stolen information allowed mills in China to produce "advanced high-strength steel that no Chinese manufacturer had been able to commercialize before the theft," said the complaint.
The ITC said within 45 days of starting its investigation, it would set a target date for completion.
Beijing is trying to shrink bloated industries including steel, coal, cement, aluminum and solar panel manufacturing in which supplies exceed demand. That has led to price-cutting wars that are driving producers into bankruptcy.
Government plans call for stepping up exports and shifting some operations abroad. The Cabinet approved measures in April to support steel exports with tax rebates and bank loans.
In Britain, Tata Steel cited low-cost Chinese competition when it announced plans last month to sell money-losing operations that employ 20,000 people.
China pushed back against its trading partners in April, announcing anti-dumping duties on steel from the European Union, Japan and South Korea.