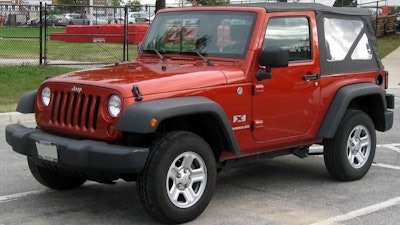 DETROIT (AP) — Fiat Chrysler is recalling about a half-million Jeep Wrangler SUVs worldwide because the driver's air bag may not inflate in a crash. The recall covers Wranglers from the 2007 through 2010 model years, including 392,000 in the U.S. Another 7,400 2011-2016 Wranglers in the U.S. with right-hand-drive also are affected.
The company says excessive exposure to dust and dirt from off-road driving can cause electrical problems in the steering column air bag wiring. If that happens, a warning lamp will come on and owners should contact their dealer.
Fiat Chrysler says it's not aware of any related injuries. The problem was discovered by a company investigation. Dealers will install a new steering wheel back cover and steering column shroud. The company says it will notify customers when parts are available.