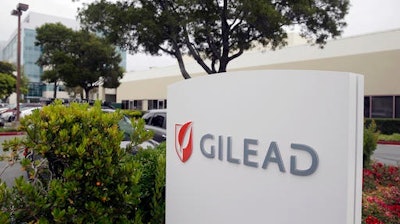 AP Photo/Eric Risberg, File
MONTPELIER, Vt. (AP) — Vermont is poised to become the first state requiring drug companies to explain their price increases, and Bob and Deborah Messing think that's a good idea.
The Messings live in Montpelier and are in their early 70s. She's on Orencia, a Bristol-Myers Squibb product, for rheumatoid arthritis. He recently finished a course of Harvoni, made by Gilead Sciences Inc., to treat hepatitis C.
Both drugs are expensive, though for people of the Messings' modest income, big manufacturers' discounts and state assistance make their costs manageable. Harvoni lists at $1,125 per pill, or $94,500 for a 12-week course of treatment. Orencia's list price tops $3,000 a month.
The Messings say they're mystified by the high prices and worried about what would happen if either the discounts or state assistance disappeared.
"Then you're faced with these wildly expensive costs," Deborah Messing said.
Drug prices have been a big issue nationwide, highlighted by Martin Shkreli, a boyish-looking, early-30s executive dubbed "Pharma Bro." He was CEO of Turing Pharmaceuticals when the company acquired rights to make Daraprim, which has been on the market since the 1950s and is used to treat a life-threatening parasitic infection. Turing raised the price from $13.50 to $750 per pill.
At a U.S. Senate Finance Committee hearing in March, Sen. Bob Casey, a Pennsylvania Democrat, called that move "pure evil."
Bob Messing pointed to a Harvoni predecessor, also made by Gilead: Sovaldi. Information gathered by the U.S. Senate Finance Committee in 2014 showed that the company that developed the drug, Pharmasset Inc., projected its price at $36,000 for a 12-week course of treatment. After Gilead acquired Pharmasset, the price jumped to $84,000.
Drug companies often counter that research and development of new medicines is costly, a view that got some support last month in a Boston Globe op-ed by Dr. Jeffrey S. Flier, dean of the Harvard Medical School.
"New drugs require expensive research and development under tight regulatory oversight. The cost of developing a single new drug may exceed $2 billion when including the cost of failures," Flier wrote.
Vermont state Rep. Christopher Pearson, a member of the Vermont Progressive Party from the state's largest city, Burlington, and a key supporter of the legislation, noted prescription drugs often sell for far less in other countries and offered another reason for high prices: the inability of Medicare and Medicaid to negotiate better prices under federal law.
Priscilla VanderVeer, spokeswoman for the Pharmaceutical Research and Manufacturers of America, said Vermont is the first state to see a transparency bill pass both houses of its Legislature.
If the governor signs the bill, which is likely, it wouldn't be the first time one of the nation's smallest states in both size and population has taken on big business. Vermont in 2007 passed a law to restrict prescription "data mining" by companies that track doctors' prescribing habits and sell the information to drug companies, but the U.S. Supreme Court shot it down in 2011. The food industry so far has failed to block a Vermont law to require labeling of genetically modified food that is set to take effect July 1.
Several other states, including New York, Pennsylvania, Massachusetts, California and Virginia, have had drug-explanation measures like Vermont's under consideration this year and in 2015. A California ballot initiative in November would go further by requiring state agencies to get drugs for the same prices as the Veterans Administration, which is not affected by the no-negotiations rule.
The Vermont bill calls on state health care regulators to develop an annual list of up to 15 drugs that have seen the biggest price increases. Their manufacturers would then have to justify the increases to the attorney general's office.
Gilead's media office did not immediately reply to an email seeking comment Thursday.
VanderVeer called the Vermont legislation misguided and said drugs actually control health care costs by helping patients avoid hospitalizations and more expensive procedures.
"Instead of passing legislation that makes a political point, we believe the Legislature should have focused instead on giving patients and families what they actually need: predictable and accessible information about the out-of-pocket costs they will face and enforceable, common-sense rules ... that remove barriers to receiving care," she said in a statement.
The bill's likely longer-term problem for the pharmaceutical industry is in legislative findings near the top: "Transparency is typically the first step toward cost-containment," it says.
Short of that, backers in Vermont said they want to light a fire under Congress to act on drug prices.
Rep. Peter Welch, a Democrat and Vermont's lone congressman, said this week that Congress did not appear likely soon to do so. He added that he was glad to see Vermont take the lead on the issue.
States taking action "will be a boost to my efforts down here," Welch said, adding that governments have a big stake.
"Why can't the state say to the pharmaceutical companies selling the drug, 'Hey, if you're going to hammer us with a 50 percent price increase, we want to know why'."