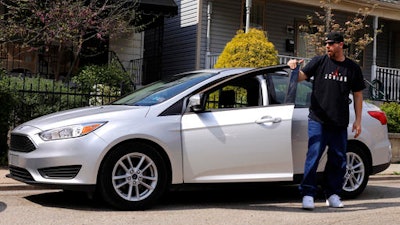 AP Photo/Gene J. Puskar
DETROIT (AP) — Louis Cervi was looking to buy a small car for basic transportation with a monthly payment in the mid-$200 range.
After six months of looking, Cervi, 41, drove off a dealer lot north of Pittsburgh in a Ford Focus for $192 a month. The dealership even accepted his 2001 Chevrolet Monte Carlo with a failed transmission as a down payment on his lease.
"I thought I'd probably get something in the $240 (per month) range," Cervi says. "It was the end of the month, so I think I got kind of lucky there. They were trying to meet a quota."
With many Americans rushing to buy trucks and SUVs, there are good deals to be had on cars, especially smaller models. In April, supplies of small cars on dealer lots grew to the highest level in seven years. Automakers are resorting to discounts and sweetened lease deals to move the metal — especially with models that haven't been updated in a few years.
In the 12 months ended April 30, small-car sales fell more than 6 percent, according to Ward's Automotive. At the same time, truck and SUV sales combined grew more than 10 percent. So far this year, about 54 percent of U.S. vehicle sales have been trucks and SUVs. Just two years ago, cars ruled the market at 51 percent. While trucks and SUVs are expected to help the industry set a new annual sales record above 17.5 million vehicles this year, some experts are predicting a continued slowdown in sales of cars.
There are a number of reasons for the shift. Gas prices are low. SUVs generally are smaller, lighter and more efficient than in the past. Older people like the higher seating position an SUV offers because it's easier to get in and out, and people of all ages use the hatchback and ample storage space.
Consumers also are more confident in the economy, and willing to spend on pricier SUVs, says Eric Lyman, vice president of industry insights for the TrueCar.com auto pricing site.
Cervi wouldn't have been as fortunate if he was after a hot-selling SUV. A Toyota RAV4, for instance, can be leased for three years at $199 per month, but a buyer has to put down $1,999. That translates to another $56 per month. RAV4 sales rose 32 percent last month.
Falling car sales, along with faster updates of compact cars, will put pressure on companies with older vehicles to offer discounts, says Lyman.
Some automakers have updated small cars after a year to include new features or overcome shortcomings pointed out by customers, he says. "It's going to become more cutthroat," Lyman said. "It means if you're not keeping your vehicle up, you're at a competitive disadvantage."
Ford's Focus hasn't been redesigned since the 2012 model year and has fallen behind newer products such as the Honda Civic and the redesigned Chevrolet Cruze. That means manufacturers with older cars like Ford and Fiat Chrysler can't charge as much as Honda or Chevy. Two weeks ago, Fiat Chrysler cut the price on some versions of its aging Dodge Dart, knocking $1,400 off the SXT model to $17,995. Dealers also are offering up to $2,750 cash back on some models.
"Every car in the industry, as it ages, seeks to provide more value," said Tom Sacoman, director of the Dodge brand.
Without the all-new Civic, small car sales would have been abysmal. Through April, its sales are up 29 percent. As a result, Honda can get more for a lease than others. It's offering a 36-month Civic LX at $179 per month — but you have to put down $1,999 — the equivalent of $56 per month — to get it.
Richard Bazzy, who owns the dealership that leased Cervi his Focus, said Ford is supporting dealers by funding lease deals. He says small cars remain a huge market for him and other dealers even though sales have fallen. So far this year, people have bought nearly 1 million small cars in the U.S.
The 2016 Cruze is just hitting showrooms. General Motors recently held a driving session for reporters with comparable vehicles. The Cruze and Civic stood out with better handling and acceleration, quieter engines and the nicest interiors.
Despite the shift to SUVs, GM hopes to gain sales with the Cruze. The new car is up to 250 pounds lighter than the old one and has a new 1.4-liter turbocharged engine with stop-start technology. All Cruzes get at least 40 miles per gallon on the highway.
The compact segment still is the largest part of the market worldwide, said Chris Biggs, executive director of marketing for the Cruze. "We think it will remain that way," he says. "So the Cruze and the models remain just crucial to us."