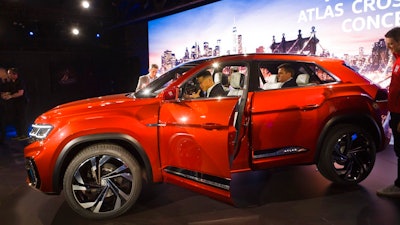 AP Photo/Mark Lennihan
Yes, there will be a few cars, but SUVs will capture most of the headlines at this year's New York International Auto Show.
Automakers will be shoring up gaps in their SUV lineups and revamping models that already are popular in the hottest-selling part of the U.S. market.
Leading the way is Toyota with an all-new RAV4 compact SUV, which last year was the most popular vehicle in the U.S. that isn't a truck. There are also new SUVs coming from Subaru, Volkswagen, Acura, Cadillac and Lincoln.
There won't be many cars. Nissan will show off a redesigned Altima midsize sedan, while Toyota will roll out a new Corolla hatchback. Kia will unveil a new K900 big luxury sedan, among others.
But SUVs, which hit a record 43 percent of U.S. sales last year at just over 7.3 million, according to Kelley Blue Book, will steal the show. Here are some wheels to watch:
CADILLAC XT4
The compact SUV is now the largest part of the U.S. market, and Cadillac hasn't had a product to offer — until now. The General Motors luxury brand rolled out the new XT4 SUV at a pre-show event in New York Tuesday night. It's built on underpinnings specifically designed for the Cadillac brand and comes with sculpted looks and an interior that Cadillac says is luxurious and spacious. The company says it will have segment-leading back-seat legroom. It's powered by a 237 horsepower 2-liter turbocharged four-cylinder engine with a nine-speed automatic transmission that will get an estimated 30 miles per gallon on the highway. The XT4 is available in the fall and starts at $35,790 including shipping.
VOLKSWAGEN ATLAS CROSS SPORT CONCEPT
Volkswagen broadens its growing SUV lineup with a five-seat version of the three-row Atlas. The company calls the Atlas Cross Sport a concept, but it's almost ready to be built at the automaker's U.S. factory in Chattanooga, Tennessee. The new version is 7.5 inches shorter than the seven-seat Atlas. The concept is powered by a 355-horsepower plug-in hybrid system with a V6 gasoline engine and a battery that can take it 26 miles on electric power. The hybrid concept can go from zero to 60 mph in 5.4 seconds, VW says. There's also a "mild hybrid" with 310-horsepower from a V6 and a smaller hybrid battery. The SUV is due in showrooms sometime next year. Mileage and price were not announced.
TOYOTA RAV4
Toyota sold almost 408,000 RAV4 compact SUVs last year, making it the new American family car and the top-selling vehicle in the nation aside from Detroit's popular big pickups. In an effort to stay on top, Toyota is revamping the RAV for the 2019 model year. The fifth-generation comes on all-new underpinnings that the company says will give it better handling and a smoother ride. It's also slightly wider and a little lower. New looks are more chiseled and athletic, and the distance between the wheels grows by 1.2 inches for more passenger and cargo space. It comes standard with Toyota's safety system that includes automatic emergency braking. It's powered by a 2.5-liter four-cylinder engine and an eight-speed transmission, or a 2.5-liter gas-electric hybrid system with a continuously variable transmission. Horsepower, gas mileage and price weren't released. The new RAV hits showrooms in the fall.
LINCOLN AVIATOR
Ford's luxury brand finally gets an Explorer-like midsize SUV with three rows of seats to compete in the hot luxury SUV market. The company was to unveil the Aviator Wednesday. Few details were given, except that it will have a twin-turbo engine of undisclosed size as well as a plug-in hybrid option. Ford says it will have tapered lines and a roomy interior. It also gets standard safety features such as automatic emergency braking and can be opened and started with a smart phone. The Aviator goes on sale sometime next year. The price wasn't disclosed.