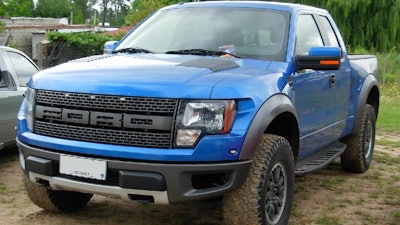 DETROIT (AP) — For the first time, Ford's F-150 pickup truck will be sold in China.
Ford Motor Co. said Friday that it's bringing the beefy, off-road version of its F-150 — the F-150 Raptor SuperCrew — to China next year.
The Raptor has been popular in China's gray market, where buyers are known to pay triple the list price. But it's never been officially sold in the country, where Ford makes and sells its smaller Ranger pickup truck.
Ford introduced the Raptor in 2009 and it quickly gained a following among off-road enthusiasts. It was discontinued in the 2014 model year as Ford prepared to launch a new, aluminum-bodied F-150.
The new version of the Raptor goes on sale later this year. It has a more powerful 3.5-liter V6 EcoBoost engine, a new 10-speed transmission and a terrain management system for driving in sand, rocks or snow. Its aluminum body also makes it faster and lighter.
Ford didn't announce pricing, but the Raptor is expected to start around $50,000. Chinese buyers will face additional import duties, since the truck will be built in Dearborn, Michigan.
The automaker makes multiple versions of the F-150, but it only plans to send the Raptor to China for now. The F-150 pickup is sold in 95 countries — and has been one of the best-selling vehicles in the U.S. for three decades.
Ford made the Raptor announcement ahead of next week's Beijing Motor Show.