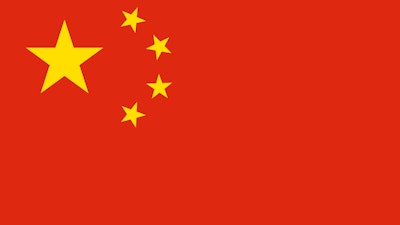 BEIJING (AP) — China's top economic planning official on Sunday said it is impossible that the Chinese economy would have a "hard landing" — or a sharp slowdown after a period of robust growth — and offered assurances that it would continue to contribute to global growth, not hinder it.
Xu Shaoshi, director of the National Development and Reform Commission, said at a news conference that China's economy has inner flexibility and abilities to resist risks.
"I can say, China's economy will absolutely not have a hard landing," Xu said. "The so-called predictions for a hard landing will definitely come to nothing. Please rest assured, this possibility does not exist."
Last year, China's growth slowed to a 25-year low of 6.9 percent — but Xu said that this was still one of the fastest expansion rates in the world. On Saturday, Premier Li Keqiang said in a report to the annual National People's Congress that authorities set a growth target of 6.5 to seven percent for this year.
In his remarks at a news conference on the congress' sidelines, Xu said China would remain stable despite sustained turbulence in the global economy. "We are completely capable of running China's economy within a reasonable range," Xu said. "We are fully confident about the prospects for development. Our contribution to the global economy is very obvious," he added. "We are still a major engine for the growth of the world economy."
Xu said Beijing is taking steps to reduce overcapacity in production. China will cut steel production by 100 million to 150 million tons over five years and another 500 million tons in coal production in three to five years.
Beijing has set aside funds to help resettle workers affected by the reductions, and Xu said there would not be any spike in unemployment. At least 1.5 million workers — and possibly millions more — are due to be let go by state-run coal mines and steel mills, while the People's Liberation Army is shaving 300,000 jobs.
Meanwhile, the government is under pressure to find white collar jobs for the record 7.7 million students graduating from China's colleges and universities this year.