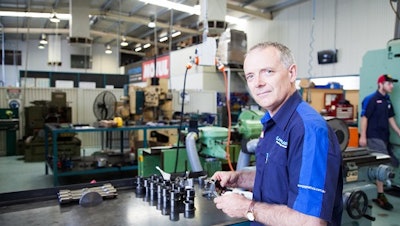 Flickr
WASHINGTON (AP) — U.S. employers added a robust 242,000 workers in February as retailers, restaurants and health care providers drove another solid month for the resilient American job market. The unemployment rate remained at a low 4.9 percent.
The Labor Department on Friday also revised up its estimates of job growth in December and January by a combined 30,000. Over the past three months, employers have added a strong 228,000 jobs.
The gains show that the U.S. economy has weathered a global economic slowdown and falling financial markets without suffering much blowback. The improvement will help ease fears that arose in recent weeks that a new U.S. recession might be looming.
Friday's jobs report is also sure to be closely monitored by the Federal Reserve and presidential candidates as a gauge of how well the economy is extending its 6½-year rebound from the Great Recession.
"Neither global headwinds, financial turbulence nor political uncertainty has dimmed American business' enthusiasm for hiring," said Sal Guatieri, a senior economist at BMO Capital Markets. "The solid jobs report should allay recession fears."
Worker pay did slip last month after having picked up in January. But more Americans who had been sitting on the sidelines began searching for jobs last month and found them.
Employers expect solid consumer demand in the months ahead even though the stock market has turned turbulent, oil prices have hurt energy industry jobs and a stronger dollar has reduced export sales. Stock trading opened slightly lower after the jobs report was released.
Retailers added 54,900 jobs last month. Restaurants and bars added 40,200, the health care sector 38,100 and construction companies 19,000.
Hiring by employers that are directly associated with consumers has more than offset layoffs at manufacturers and fossil fuel companies — two sectors squeezed by the pressures of uncertainty in China, sluggishness in Europe, declining oil prices and a stronger dollar.
Job losses for the mining sector — an area that includes the battered energy industry — have totaled 140,400 in the past 12 months. And manufacturing has added just 12,000 jobs over that time.
Consumers have provided the foundation for much of the job market's improvement in what's become something of a self-sustaining cycle. The nearly 2.7 million workers who have been added over the past 12 months have bolstered spending on autos, housing and meals out.
With unemployment remaining low, economists say more companies should begin to raise pay to attract workers, thereby fueling more hiring and increasing people's ability to spend, invest and save.
For years, one of the key weaknesses of the economic recovery has been tepid pay growth. Over the past 12 months, average hourly earnings have risen 2.2 percent. Earnings actually fell slightly between January and February in a sign that an expected liftoff in incomes has yet to be achieved.
Economists were searching for explanations because wages had begun picking up in recent months.
"This surprising decline in wage gains may have been due in part to increased demand for lower-paying service jobs, like retail and hospitality jobs, as people frequented the malls and restaurants after the snow melted in February," said Beth Ann Bovino, chief U.S. economist at Standard & Poor's Ratings Services.
But Ian Shepherdson, chief economist at Pantheon Macroeconomics, noted that wages might have slipped last month because the survey for the jobs report occurred before Feb. 15, which is payday for people who are paid semimonthly.
Still, steady hiring in recent months has translated into more consumer spending in several key sectors. Auto sales rose 7 percent over last February to 1.3 million vehicles, according to Autodata Corp.
Purchases of existing homes rose 0.4 percent last month to a seasonally adjusted annual rate of 5.47 million, according to the National Association of Realtors. That improvement followed a solid 2015, when sales achieved their highest level in nine years.
And spending at restaurants has risen 6.1 percent over the past 12 months.
Still, troubles abroad have tempered U.S. economic growth. China, the world's second-largest economy, is struggling with high corporate debts and slower growth. Oil prices have tumbled amid relatively low demand. The strong dollar has crushed exports, while the stock market has dropped in an extended bout of volatility this year.
The Fed is looking for further wage growth. The central bank is considering whether to raise interest rates again in the face of global risks that could imperil broader economic growth. In December, the Fed raised rates from record lows — its first increase in nearly a decade.
Investors have largely dismissed the likelihood of another rate hike at the upcoming Fed meeting March 16-17.