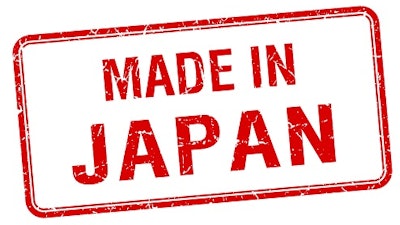 TOKYO (AP) — Japan's trade balance returned to deficit in January, with a shortfall of 646 billion yen ($5.65 billion) as exports fell 13 percent from the year before, led by an 18 percent plunge in the value of shipments to China.
Customs data released Thursday show exports dropped to 5.35 trillion yen ($46 billion) while imports plunged 18 percent to 6 trillion yen ($52 billion). The deficit compared with a surplus of 140.2 billion yen in December.
China's economic slowdown has taken much of the steam out of the recovery of the world's third-largest economy. A report by the Japan External Trade Organization, released Wednesday, showed Japan's total trade with China fell 12 percent last year from the year before.
Exports of machinery to China fell 27 percent in 2015 from the year before, reflecting a slowdown in manufacturing investment, while exports of chemicals, iron and steel and vehicles also dropped, the report said.
Overall, Japan's exports to Asia also fell, by 18 percent.
Japan's exports to the U.S. slipped 5.3 percent from the year before to 1.13 trillion yen ($9.8 billion) in January while imports fell 9.7 percent to 584.8 billion yen ($5.1 billion).
Exports of transport equipment rose 26 percent, with cars, trucks and ships showing strong growth. Machinery and chemicals exports also grew at a double-digit pace.
Japan has mostly run trade deficits since it closed nuclear reactors following the 2011 accident at the Fukushima Dai-Ichi plant and stepped up imports of oil and gas. The plunge in oil prices has helped reduce energy-related imports, which fell 45 percent from a year earlier in January.
Adjusted for seasonal factors, Japan posted a surplus of 119 billion yen ($1 billion). But imports fell 5 percent in volume terms while exports fell 9 percent, said Marcel Thieliant of Capital Economics.
He said the trade balance would likely improve in coming months as the most recent dips in oil prices are gradually reflected in trade data.
"However, we expect crude oil prices to creep higher over the course of the year, so any further increase in the trade surplus should prove short-lived," Thieliant said.