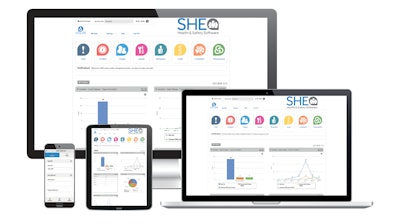 SHE Software (Chicago, IL & Scotland) is a leading provider of health and safety software that offers a web-based version and mobile app for its Assure software platform. Features include:
An approach that provides data for proactive safety strategies.

The ability to record, track, manage and report all individual safety data and compliance.

Multilingual functionality.
Dashboards that provide an up-to-date picture of health and safety across an organization in real time, providing employers with visibility to analyze and identify issues and trends – ideally providing the opportunity to fix an issue before it becomes a hazard.
Helps ensure regulatory compliance with prompts every time an incident is logged to discover the cause. Any hazards or near misses can be logged in real time by anyone, anywhere.