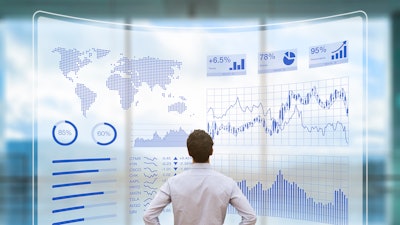 Ensuring your company is realizing as much benefit as possible from its investment in industrial equipment is a constant for any C-level executive. It's not only having the most sophisticated, well-maintained machinery that results in manufacturing industry-leading, competitive products. It also requires a robust Enterprise Asset Management (EAM) system that can manage the maintenance of an organization's physical assets throughout their lifecycles.
An EAM tracks assets across the entire enterprise: departments, locations and facilities. It includes design, construction, commissioning and maintenance of plants and equipment. A recent analyst report indicates that companies considered to be best-in-class are 37 percent more likely to run EAM solutions than other companies. Industrial equipment distributors rely on EAM solutions to manage after-sale service at customer sites, which enables them to expand value-added services.
However, merely deploying an EAM solution isn't the solitary component to ensure that assets are managed properly and providing optimum results. Although comprehensive EAM solutions will include functions such as asset lifecycle management, supply chain management and inventory management, it's also highly desirable to make certain the EAM solution integrates well with the company's ERP solution. An EAM solution is often viewed as an add-on to ERP and tends to be overlooked by many companies when they evaluate new technology.
Considerations When Selecting an EAM Solution
The ideal EAM solution will track all assets throughout the full lifecycle. An automated solution must track equipment from production and material handling equipment such as cranes, lifts, and conveyers, to complex tooling and assembly, to vehicles, and other equipment. It must offer integrated features that track the lifecycle from acquisition to disposal including the activities relating to the acquisition and maintenance of operational assets and equipment.
Select an EAM solution that integrates with ERP. Ensure that the solution can be integrated with the operational ERP system to capture asset utilization and maintenance history. Integrated EAM with a good predictive maintenance capability can significantly help avoid serious downtime and expensive production disruption.
Select and implement the EAM with all users in mind. Involve key process owners in the entire selection and deployment processes and make certain they fully understand the requirements and touch points for effective asset management. Consider any external partners, supply chain organizations or other resources that need EAM access as part of the extended supply chain.
Select an EAM solution that offers robust functionality. Core features and functions must cover all tracking and real-time reporting of the acquisition, accounting depreciation, maintenance, repair and disposal of equipment. Make sure the EAM solution offers mobile accessibility and integrates with data collection devices like barcode scanners and other devices and technology such as GPS and RFID.
Look for predictive analysis such as predictive maintenance tracking and predictive capital allocation requirements. Introducing new technology to the workforce is the ideal time to review the company's current state and paint a picture of the desired future state. What does a successful technology deployment look like after it achieves the expectations that were anticipated in the planning stage?
The Timing
Adopting new technology presents an opportunity to analyze current business processes to determine if they can be improved and complement the new technology. It starts with a business process review and involves all of the key business users, management and production personnel.
Usually conducted with the help of an independent third party, a BPI project looks at the current state of the business processes and seeks a view into how operations are currently done. The team explores if current processes add value, if there is any waste that can be reduced or eliminated, if there are any unnecessary redundancies and other considerations.
Business Process Mapping is the final phase in reaching your desired "future state." Analyzing the current state should reveal unnecessary waste and efforts which don't add value to the process. It's important to conduct the process mapping before implementing new enterprise technology solutions. The integration of an efficient ERP solution with robust EAM technology leads to increased productivity, less waste and a more rapid ROI in equipment investments.
Making certain that business processes are analyzed, evaluated and re-engineered to support the new technology in the workplace provides the final step in helping an organization reach the desired state to which it aspires.
Andrew Bolivar serves as Senior Consultant at Ultra Consultants, as well as the Director of Ultra's Center of Excellence, an enterprise vendor research initiative.