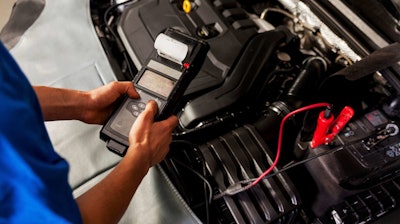 KS2 is a Montreal-based contract manufacturer of assemblies and subassemblies for the automotive industry. In addition, KS2 provides engineering services to other manufacturers. The business started in 2007 and has since grown into a 40-person team.
In 2016, rapid growth prompted the company to look at alternatives to the spreadsheets that were used at the time to manage the manufacturing operation.

"We started building more and more different types of assemblies and it was becoming impossible to manage," says KS2's Operations Manager Kendra Scappaticci. "It was very clear that we had to start looking for MRP software."
While searching online for an intuitive and user-friendly ERP system optimized for small manufacturers, the owner of the company came across MRPeasy.
"The price point of MRPeasy was fantastic for us, as well," Kendra says. "After looking at four other systems, it was clear that MRPeasy was the solution for us."
Software was easy to implement and use
By the time Kendra started as a Junior Buyer in 2017, the company was using MRPeasy to manage parts, bills of materials, and purchases.
"This was obviously fantastic for me when I started in the purchasing department because the software made all the processes so much quicker," Kendra remembers. "It came with a learning curve, of course, but I found the system very user-friendly."
Luckily, MRPeasy has made overcoming the learning curve simple. Software documentation, including dozens of how-to videos, is available online and the system's interface includes context-sensitive help. All this makes implementing and using the system possible without having to hire expensive implementation consultants.
"MRPeasy's technical support team is also very helpful and responsive," Kendra adds. "You send them a ticket and get a substantive answer by the next day at the latest."
Turning over quotes in 24-48 hours
When Kendra started, there were two people using the software but over time, they have rolled out functionality to the customer service and engineering departments in addition to the supply chain people.
"Right now we have 15 people that are actively using the software," she says. "We are growing and the products are constantly evolving so having the engineers manage the bills of materials and their revisions within the software has made things so much easier."
According to Kendra, MRPeasy has also enabled the company to quickly respond to quote requests and expedited the whole quote-to-cash process.
"We are now able to turn over quotes within 24-48 hours from receiving the request," she says.
The customer experience as a whole has improved significantly. Quotes and invoices are now clear and transparent, and KS2 can track part revisions made by both the company and its clients. This, along with the powerful BOM management capabilities, helps avoid any confusion in a company with complex BOMs that undergo frequent changes.
"When we start producing new items, drawing up new bills of materials and getting them linked up with production planning takes just a few hours now instead of days," Kendra states. "We can upload a new BOM, be ready to submit manufacturing orders, and send out invoices associated with the new product within the same day now."
Control over data is key to a successful business
Perhaps the most significant benefit of all is the control that MRPeasy has given KS2 over their data, empowering them to make informed decisions with confidence.
"Being able to look at stock statistics and plan ahead for items with long lead times has really improved our supply chain processes," Kendra maintains.
KS2 has also found that with MRPeasy, invoicing has become significantly quicker, enhancing their cash flow. As a company conducting business in both Canada and the United States, KS2 also appreciates MRPeasy's multi-currency functionality which has eliminated the complexities associated with cross-border transactions.
"Some people think MRP is complicated but there's no need to get overwhelmed by the number of available functions," Kendra says. "You can just start with one important feature that benefits you and then roll out additional functions over time. The data visibility you'll get from using the software is invaluable."