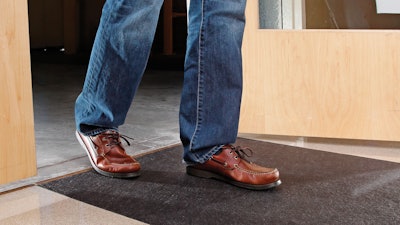 New Pig Corporation (Tipton, PA) now offers a line of PIG Grippy Floor Mats to help facilities improve floor safety and maintenance and cut potential liability claims and costs. Grippy Floor Mat is the world's first adhesive-backed absorbent mat. Unlike standard carpeted or rubber-backed floor mats that become trip hazards, Grippy Mat won't bunch up, flip over or shift around. NFSI Certified as a high-traction surface, it helps reduce slip-and-fall claims by as much as 90% when used as part of a floor safety program, says New Pig. Other features include:
A durable absorbent top layer, a middle liquid-proof barrier layer to keep liquids from passing through to the floor, and a repositionable adhesive bottom layer.
The ability to keep floors dry and safe while staying down for up to 12 weeks before changeout.

Engineered fibers that absorb and evenly distribute moisture throughout the mat to prevent surface puddles and minimize tracking.

The ability to custom cut the ultra-thin material to any length or shape desired, which creates a neater, more attractive facility environment.
Rental mat users can save over 50% annually in rental program costs by switching to Grippy Floor Mat.
The Grippy Floor Mat adheres tightly to nearly all floor surfaces, but peels up easily, making mat relocation or replacement quick and easy. Tough enough for heavy-duty walk-on and wheeled traffic, it won't rip, shred or fray.
www.grippymat.com; 855-GRIPPY1