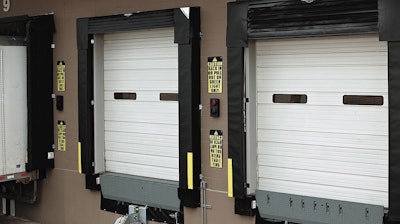 Rite-Hite Corporation
There was a time when many manufacturers and distributors treated their loading docks as an afterthought. Dock safety programs consisted of little more than painting the edges to improve visibility, and the identification of energy loss wasn't even on the radar. But today, more and more businesses are seeing the business value of addressing cost centers, like gaps and cracks that lead to wasted energy, poor preventive maintenance practices and the lack of safety components that can result in the most serious of consequences – employee injury or death.
IEN sat down with Gerry Timms, Vice President/General Manager for Arbon Equipment Corporation, a wholly owned subsidiary of Rite-Hite. Arbon distributes, installs and maintains Rite Hite equipment – everything from dock doors, levelers, guards and more – and Timms offered his opinions on the challenges facing loading docks, and how the latest products are being engineered to address them.
IEN: Have you noticed any changes over the last few years or so when it comes to the dock? Are there any priorities that folks have today versus ten years ago?
Gerry Timms: The degree of integration has really increased, meaning companies are trying to buy equipment that completely automates the process. They don't want to leave opening and closing of the door up to the dock attendant. So, what they do is they'll integrate all the components so, if they hit the door button, the first thing that will happen is the Dok-Lok will come up and grab the trailer. Then the overhead door will rise. And then they can operate the dock leveler only when the overhead door is at a certain point. The degree of integration across all the pieces of equipment has really elevated.
With that, the sophistication requires more maintenance. You need technicians that are more in tune with all the safety interlocks and the processes of how the equipment works. So, I think that adds another layer of complexity to the average maintenance person that's working on the loading dock. That is, by far, one of the biggest shifts I've seen in the past few years. And the maintenance is crucial, especially when you don't have many loading docks. If you only have a couple of doors and one of them goes down, that can really hamper your receiving and shipping. It's a pretty vital point of entry into your facility. If you can't ship it, you can't bill it, and if you can't bill it, you can't get paid. Nobody pays too much attention to the loading docks, but they're continually going over them, and it's also a pretty dangerous place. You have trucks backing up, and it's a four foot drop off point. So, they're continually trying to guard against people falling off the loading dock, and also from not getting crushed by trucks backing up.
Gerry Timms
IEN: Do you find that a lot of your customers have good PMs in place, or are they really more reactive when it comes to things like pest control or energy issues?
GT: Food companies are forced to have these programs in place, with the FDA and the different requirements for their business. But in general, it's a very reactionary portion of their business. And even in a reactionary mode, sometimes all of the components of a piece of equipment are not addressed. We have factory-trained service technicians, so they know if certain components are at wear points. They are experts in material handling equipment, and they know which areas to address on a dock leveler, door or a vehicle restraint that could be a safety concern coming up, or a potential failure point on the equipment. Whereas, the person who is working at the facility is in charge of this and multiple other items inside the plant that they have to do the maintenance on.
IEN: How are the products you're integrating targeting energy savings around the dock?
GT: It helps customers save energy, especially with the winter months coming up, [by addressing] cracks underneath bad door seals, brush seals and anything in and around the loading dock where air can get in and infiltrate the building. If you think about a small crack in a facility that has 50 doors, that's a significant amount of energy loss in and around the loading dock. It effects the working conditions and it also increases the overall energy usage. Open doors at the loading dock can lead to problems with insects, birds or rodents – especially for food companies. Customers are continually trying to control the conditions inside the plant, so many of these areas are areas of concern.
IEN: Are there any products that you demo where the customers get really excited and it's almost a no-brainer?
GT: They're getting really excited about our Dok-Guardian product, which is our loading dock barrier solution. It's very popular because it cordons off the loading dock, and protects people from harmful situations. They can also be integrated into the door, lights and vehicle restraints. Customers are really gravitating towards those. And our complete lineup of mechanical and hydraulic dock levelers, and also our Survivor dock seals. The Eclipse dock shelter has also been a big hit, because it eliminates light at the loading dock by providing a tight, consistent seal all the way up trailer sides, across the top and at the corners. Anywhere there is light that can come in, food inspectors think birds and bugs can get in as well. That area of the building is being more scrutinized, to say the least.
IEN: There has been such a rise in temporary workers and now we see more emphasis on training programs and also technology that's easy to operate and provides a short learning curve. Can you tell us anything about how this impacts the need for outside resources?
GT: The products are becoming more sophisticated and workforce is being challenged more.
Qualifications for being onsite are more stringent these days, as are insurance requirements. [Customers] are looking for a provider that has the most amount of training and support. Customers want to be aligned with companies like that. But, it's still the same game – making sure the docks and doors are all working, and that when we come out, we've got guys that know what they're doing, and they're trained appropriately. And they're also safe onsite. Safety on a worksite via the workers is huge.
Arbon gives our customers the same level of experience no matter where their facility is located. We have all the same quality standards across our company throughout the United States, Canada and Australia. And also, they're guaranteed to get technicians who are drug tested, background checked, and OSHA certified. Our insurance levels are always the same. And we're professionally trained with fully-equipped service vehicles. So, you get that too when we come out and do the service on the facility. That's a big one, because it saves you a lot of money. We send a truck out there and he doesn't have to go back to the facility to get parts. They can do it right there on the spot, and that saves money and time.
For more information, visit www.ritehite.com.