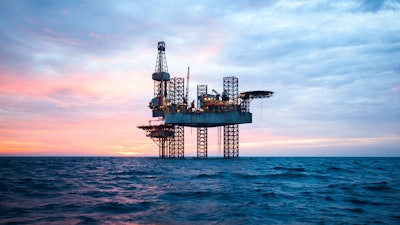 iStock
MEXICO CITY (AP) — An explosion and fire destroyed an offshore gas platform in the Gulf of Mexico early Friday, while two workers died, eight were injured and one was missing, officials said.
The state-owned oil company, Petroleos Mexicanos, said the disaster happened on the Nohoch gas transfer platform that it operates. It said the dead and missing workers were employed by a subcontractor and three of the injured were company employees and five worked for the subcontractor.
The company, known as Pemex, said none of the injuries were life-threatening.
The company's statement said seven ships evacuated a total of 321 workers from the platform. Photos distributed by the company showed several fire boats pumping streams of water onto the still-smoking platform.
Octavio Romero, director of Petroleos Mexicanos, said that the platform "was totally destroyed," but that four other nearby, linked platforms did not catch fire.
There appeared to be little risk of an oil spill, though it was unclear whether the accident might force the company to increase flaring of gas, a process of burning excess gas that pumps large amounts of greenhouse gases into the atmosphere.
Platforms like the one that burned receive gas from wells and pump it through pipelines to storage tanks or ships. Because some wells produce gas associated with oil, either oil production would have to be shut down until somewhere else was found to send the gas, or the gas would have to be flared off.
Romero appeared to suggest the company would temporarily stop production at some wells, saying the accident was going to reduce production of crude oil "by several thousand barrels" per day.
That would be a bad situation for the company, and Romero said "we need to rapidly return to production."