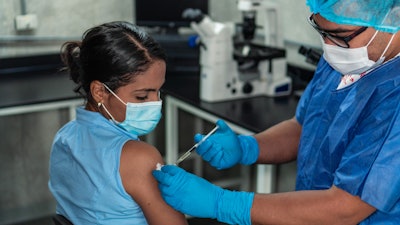 iStock
Nephron Pharmaceuticals Corp., a manufacturer based in South Carolina, is requiring all of its employees to get vaccinated against COVID-19, Associated Press reports.
The mandate goes into effect for the company's nearly 2,000 workers who have until Aug. 27 to start a two-dose vaccine series.
An employee can provide "an exemption or reasonable accommodation," according to CEO Lou Kennedy.
Nephron has provided vaccinations to the public in West Columbia, SC since February and ran thousands of COVID-19 tests.
Visitors, vendors and guests will also need to be fully vaccinated.
According to data from the South Carolina Department of Health and Environmental Control, less than half of eligible South Carolinians were fully vaccinated as of the week of Aug. 9.
A proposal approved by South Carolina lawmakers that would prevent employers from requiring COVID-19 vaccines is still waiting on action by the House.