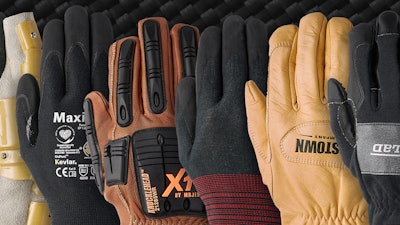 DuPont Personal Protection has announced the winners of the sixth annual DuPont Kevlar Glove Innovation Awards. The awards showcased excellence in innovative glove and sleeve designs from licensees that use DuPont Kevlar aramid fiber and continue to redefine the standards for performance and comfort in personal protective equipment (PPE). This year's winners include:
MCR Safety, for its 9388NF, 18 gauge cut-resistant glove made with Kevlar, raising the glove's cut level to A6, a market leading combination of protection and comfort. Fine motor-skill tasks can be easily conducted without sacrificing protection, due to this glove's fine-knit material paired with the reinforced thumb crotch dip.
ATG Gloves, for its MaxiFlex Cut reaching new levels of comfort at ANSI cut level A4. The inclusion of ATG's AIRtech platform that delivers 360 degrees of breathability and ATG's DURAtech coating, which provides 18,000 abrasive cycles per millimeter, delivers a high-performing glove with both comfort and durability.
Youngstown Glove Company, for its FR Ground Glove, lined with 100 percent Kevlar, offering cut and puncture protection, but also making the glove flame-resistant with increased arc ratings. The Kevlar fiber is sewn directly into the leather for a non-slip liner, greatly enhancing the durability and longevity of the glove.
Superior Glove, for The Shield, a nail gun hand pad with Kevlar ballistic armor plating, which is strategically placed to protect the areas of the hand that are most susceptible to potential nail gun injuries. For increased durability, the glove is sewn with Kevlar thread to increase the glove's strength and durability.
Majestic, for its 21285WR, a soft, yet durable, glove raising the safety standards in protective apparel with a goatskin glove lined with Kevlar. By achieving level 3 arc-resistance and ANSI cut level A4, this design protects all areas of the hand from injury, while being impact, water and oil resistant.
Ironclad Performance Wear, for its Heatworx Heavy Duty HW6X, a glove designed to withstand up to 600 degrees of heat while being highly dexterous and comfortable for wearers. A silicone-laminated shell, lined with Kevlar, provides extreme heat protection in the finger sidewalls as a machine-washable, comfortable and convenient heat resistant option.
For more information, visit www.personalprotection.dupont.com.