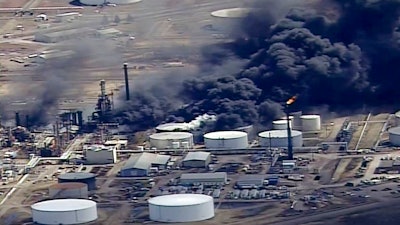 KSTP-TV via AP, File
SUPERIOR, Wis. (AP) — A raging refinery fire that forced the temporary evacuation of homes in the coastal Wisconsin city of Superior in April was caused by an explosion that sent debris hurtling into an asphalt storage tank, a federal agency said Thursday.
The U.S. Chemical Safety Board released an update on the explosion and fire at the Husky Energy refinery in Superior in late April.
According to the report, the explosion sent a piece of debris about 200 feet (61 meters) into an aboveground storage tank that contained about 50,000 barrels of asphalt. The tank was punctured and spilled more than 15,000 barrels of hot asphalt, which ignited about two hours later.
While the cause of the blast remains under investigation, the federal analysis said a worn valve in an area where oil is made into gasoline could have caused the explosion, the Star Tribune reported.
The blast happened in the refinery's fluid catalytic cracking unit, which was being shut down for routine maintenance on the day of the explosion. The unit converts hydrocarbons in petroleum into gasoline. During the maintenance shutdown, conditions existed that could have allowed air to flow backward through a worn valve and into an area containing flammable hydrocarbons, the report found. Mixing air with hydrocarbons can cause an explosion.
The explosion happened while workers were on a scheduled break, and many were in blast-resistant buildings or away from the blast area, according to the report.
The report said 36 people sought medical attention after the explosion, including 11 refinery and contract workers. A large part of Superior was evacuated.
A spokesman for Canada-based Husky Energy said the company has reviewed the update and will continue to work with the U.S. agency to understand the cause of the explosion.
"The lessons learned will assist with our decisions as we begin the process of rebuilding the Superior refinery," Husky Energy spokesman Mel Duvall said in an email to The Associated Press.
Husky Energy said in its second-quarter earnings statement last week that the refinery is not expected to restart until 2020. The earnings statement said the fire and explosion caused $27 million Canadian in damage. The company plans to use insurance money to rebuild the refinery.