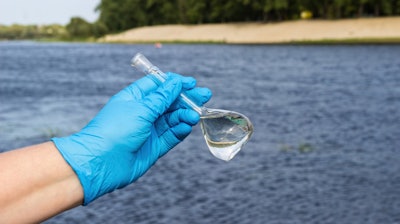 MARINETTE, Wis. (AP) — A manufacturer in northeastern Wisconsin has discovered new evidence of groundwater pollution near Lake Michigan involving a chemical that has raised national health concerns.
Tyco Fire Products said this month that it discovered perfluorinated chemicals, or PFCs, in well samples at its manufacturing plant in Marinette. The U.S. Environmental Protection Agency had directed Tyco to test for PFCs at the wells, which are part of a separate cleanup of arsenic.
Tyco produces specialized firefighting foams that can extinguish gas and oil fires. PFCs are used in products like the firefighting foam and have been linked with increasing cancer risks and development problems in fetuses, the Milwaukee Journal Sentinel reported .
Tyco, which is a unit of Johnson Controls International, said it's investigating the source and extent of the groundwater contamination by testing soil, ditches and surface water.
Elevated levels of PFCs appeared in Marinette's wastewater treatment system during November and May testing, according to records from the city and the Department of Natural Resources. Effluent is released into the river after waste is treated. The leftover sludge has typically been spread on farm fields.
The DNR has directed the city to test the sludge samples and officials are waiting for the lab results. It's uncertain if Tyco is the source of the wastewater contamination and it's too early to determine the impact of the sludge on soil, crops and livestock, according to DNR officials.
Trace amounts of the chemicals have also been found in the city's municipal drinking water, according to records from the city and the DNR. The levels are low and aren't considered a danger to public health, city and DNR officials said.
Johnson Controls spokesman Fraser Engerman said since PFC compounds are often used in consumer and commercial products, "it is difficult to determine all potential sources of these compounds."