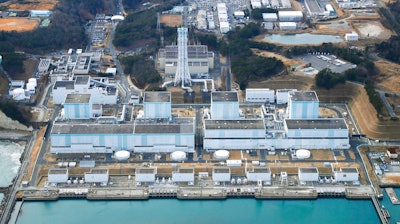 Kyodo News via AP
TOKYO (AP) — The operator of a nuclear power plant in northeast Japan that suffered meltdowns seven years ago said Thursday for the first time publicly that it will start making concrete plans to decommission another plant in Fukushima that narrowly escaped the crisis.
Tokyo Electric Power Company Holdings said it will decide on the timeline and other details before formally announcing the dismantling of four reactors at the Fukushima Dai-ni, or No. 2, plant, which has never restarted since the 2011 disaster.
The Fukushima Dai-ichi, or No. 1, plant was heavily damaged in a March, 11, 2011, earthquake and tsunami. Three reactors had meltdowns and a fourth had damage to its building. Decommissioning of those reactors has started and the two others are set to be scrapped.
An additional decommissioning in Fukushima would mean all 10 of TEPCO's reactors in Fukushima would be dismantled eventually.
TEPCO has said a Fukushima No. 2 decommissioning would cost about 280 billion yen ($2.5 billion), in addition to the estimated 22 trillion yen ($200 billion) needed for the ongoing Fukushima No. 1 cleanup.
Fukushima officials and residents have demanded TEPCO decommission its remaining reactors, saying uncertainty has hampered reconstruction.
TEPCO president Tomoaki Kobayakawa, who met Fukushima Gov. Masao Uchibori at the governor's office, announced the plan following the governor's renewed request to scrap Fukushima No. 2.
"We thought prolonging the ambiguity would hamper local reconstruction," Kobayakawa said.
Uchibori welcomed the decision, saying TEPCO's plan for Fukushima No. 2 decommissioning would help alleviate negative image and safety concerns.
TEPCO had kept mum on its decision on Fukushima No. 2, which has been offline since the tsunami and its restart was thought to be a difficult proposition because of local protests.
In addition, its four reactors are more than 30 years old and would have required TEPCO to make huge investments to improve safety to get approvals for restarts.
TEPCO would be left with only Kashiwazaki-Kariwa plant in Niigata, northern Japan, to produce nuclear power. Local restart approvals for two of its seven reactors are pending.
When Fukushima No. 2 decommissioning becomes official, the number of workable reactors in Japan would fall to 35, down from 54 before the disaster.
Nuclear energy now accounts for less than 2 percent of Japan's energy mix since most reactors were idled after the 2011 disaster. Only five reactors have since restarted.
While the government of pro-business Prime Minister Shinzo Abe is pushing to start up as many reactors as possible, restarts are coming slowly as anti-nuclear sentiment remains strong and regulators have stepped up screening process.
Still, the government says nuclear energy should account for 20-22 percent of Japan's energy mix by fiscal 2030 in a draft energy plan that experts say as unrealistic.
Japanese utilities have been opting to scrap aging reactors nearing their 40-year lifespan rather than take advantage of an exemption that would allow them to extend their operation for up to 20 more years. Meeting new safety standards put in place after the Fukushima disaster costs more, making nuclear power more expensive than it used to be.