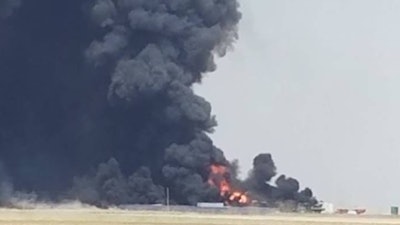 Emily Younger, @EmilyYoungerKSN
MINNEOLA, Kan. (AP) — Authorities say crews have extinguished a fire at a biofuels plant in western Kansas.
The Clark County Sheriff's Office said in a Facebook post that the blaze at the EGE plant near Minneola was put out by 6 p.m. Tuesday. The fire began burning around noon at the plant about 150 miles (241.39 kilometers) west of Wichita.
No injuries were reported, but residents of a few homes near the plant were urged to evacuate because of the smoke. The Kansas Department of Agriculture says the plant manufactures additives that are designed to keep fertilizer from drifting into the air and also might work with ethanol.
EGE Products thanked the first responders in a Facebook post and said appropriate authorities have been notified. The cause of the fire is under investigation.