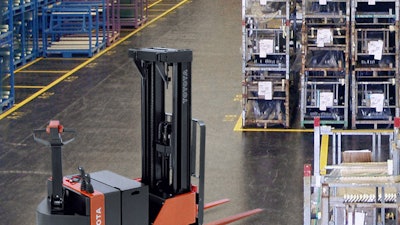 TMHU
Toyota Material Handling, U.S.A., Inc. (TMHU; Columbus, IN) has announced that its North American dealerships will offer no-cost forklift safety consultations for customers in honor of National Forklift Safety Day, which falls on June 12 this year. The consultations, provided by authorized Toyota dealers in more than 230 locations in North America, can provide valuable insight about ways to reduce risk in the workplace.
In addition to the safety consultations, Toyota offers training programs and materials along with online resources that address several key safety areas in material handling. Most Toyota forklifts come standard with safety-focused technology features such as the System of Active Stability and Active Mast Function Control, both unique to Toyota.
Created by the Industrial Truck Association (ITA), National Forklift Safety Day is an annual event for the forklift industry to emphasize the importance of operator training and the safe use of forklifts. The topic of forklift safety covers many aspects of material handling, including proper behavior in warehouses, distribution centers and manufacturing plants.
To find a Toyota Forklift dealer in your area and schedule your no-cost forklift safety consultation, visit ToyotaForklift.com to connect with your local Toyota forklift dealer.