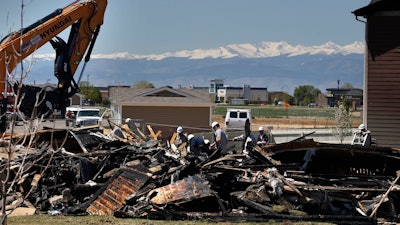 AP Photo/Brennan Linsley, File
DENVER (AP) — A shareholder lawsuit alleges Anadarko Petroleum was focused on keeping oil and gas flowing from older wells, not fixing potential safety problems, in the months before a fatal house explosion in Colorado linked to an Anadarko well.
The lawsuit cites former company employees as saying Anadarko had slashed its safety budget and staff and had only a skeleton crew for refurbishing wells.
"A well's potential safety risks, and whether it was located in a residential area or near a school, played no part in whether it was chosen for remediation," the lawsuit said.
The claims are in court documents filed last year. They were first reported Tuesday by the Colorado Independent. Company spokeswoman Jennifer Brice said Anadarko does not comment on pending lawsuits.
The lawsuit said Anadarko's actions caused stock prices to fall, hurting investors. The lead plaintiff is the pension fund for the Philadelphia Iron Workers union, which owns Anadarko stock.
The lawsuit was filed in federal court in Texas, where Anadarko is based.
Two people died and a third was injured in the April 2017 explosion in the town of Firestone, about 30 miles (50 kilometers) north of Denver.
Investigators said the explosion was caused by odorless, unrefined natural gas from a pipeline that was severed about 10 feet (3 meters) from the house. The line was believed to be abandoned but was still connected to an operating Anadarko well with the valve turned to the open position, investigators said.
Authorities said the gas seeped into the home's basement. The investigation is still underway.
The lawsuit cites one former employee as saying Anadarko had indications there was something unusual about the well because it should have been emitting methane but was not. Methane is a key component of natural gas.
Two inspections failed to find the reason, but Anadarko kept the well in operation, according to the ex-employee. The former employee said his information came from other employees, the lawsuit said.
The lawsuit did not list the names of the current or former employees it cites.
Another former employee said when she told her boss she had concerns about Anadarko's safety practices, she was told to keep quiet and that her job "was to shovel (expletive)" and clean up messes that other employees created, according to the lawsuit.