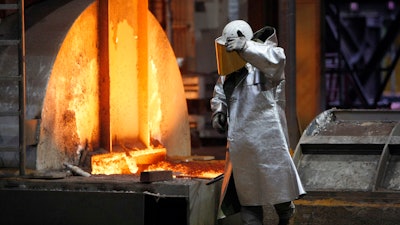 PORTAGE, Ind. (AP) — U.S. Steel failed to test a Lake Michigan tributary for a potentially carcinogenic chemical after a spill from one of the company's plants in northwest Indiana, documents show.
The October spill was the second time this year that the company's Portage plant dumped chromium into Burns Waterway. Plant managers told an inspector in November that they had opted not to test for the most dangerous form of the metal after that spill, according to an inspection report posted online Tuesday by the Indiana Department of Environmental Management, the Chicago Tribune reported.
Steel mills are required to regularly administer two types of tests for chromium, which is used to make steel alloys rust-resistant. One test measures total chromium, including a significantly less toxic form known as trivalent chromium. The other tests for hexavalent chromium, which was made infamous by the movie "Erin Brockovich."
An April spill at the Portage plant released up to 920 pounds (417 kilograms) of hexavalent chromium into the water.
The October spill discharged 56.7 pounds (25.7 kilograms) of chromium, an amount 89 percent higher than the plant's permit allows over 24 hours, but tests weren't done for hexavalent chromium. The spill happened when a wastewater treatment system malfunctioned.
U.S. Steel said in a statement that it already has retrained treatment plant operators and made changes to monitoring equipment.
Burns Waterway flows into Lake Michigan, which supplies drinking water to Chicago and other communities. Tests by the nation's third-largest city have not found elevated levels of hexavalent chromium in Chicago's drinking water, nor did any tests on the Indiana side of the border.
The October spill was disclosed last month after the University of Chicago's Abrams Environmental Law Clinic found that U.S. Steel had reported it in a letter to Indiana regulators that asked them to keep it a secret. The letter was discovered while the university was researching pollution problems at factories along the southwest shore of Lake Michigan for Surfrider, a nonprofit group that represents Great Lakes surfers.
"It is shocking and mind-boggling," said Mark Templeton, director of the Abrams Environmental Law Clinic. "Once U.S. Steel observed that the illegal chromium discharge was blue and full of solids, did they not run the test because they didn't want to know the results?"
Portage officials have said they're deciding whether to join a lawsuit against the Pittsburgh-based steelmaker that Templeton is planning. Chicago officials also are also drafting a lawsuit.