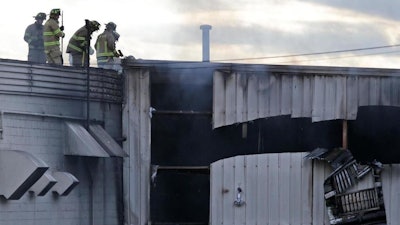 AP Photo/Seth Wenig
NEW WINDSOR, N.Y. (AP) — Officials say the number of people treated for injuries after two explosions and a fire at an upstate New York cosmetics factory has topped 125.
Authorities initially said one employee was killed and up to 35 people, including seven firefighters, were injured when two blasts erupted Monday morning inside the Verla International plant in the town of New Windsor, 55 miles (88 kilometers) north of New York City.
A spokeswoman for St. Luke's Cornwall Hospital says Tuesday that the number of people treated increased substantially later Monday, with more than 125 reporting injuries. Officials say most were treated for non-life-threatening injuries and released.
It took several hours for more than 100 firefighters to douse the flames started by the explosions.
State and local authorities are trying to determine what triggered the blasts.