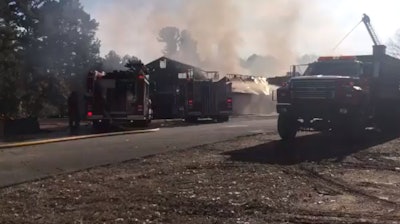 Rebecca Butcher, @RebeccaWTVA9
CORINTH, Miss. (AP) — An electrical fire inside a ventilation fan is believed to have fed a Thursday fire that destroyed a northeast Mississippi factory.
Alcorn County Deputy Fire Coordinator Jackie Farr tells The Daily Cornithian that Palmer-Handrail Custom Millwork employees tried to put out the vent fire, but flames spread outside and onto the roof.
Firefighters fought the blaze near Glen for nearly seven hours. The fire sparked concern because of the plant's chemicals, but Farr says firefighters avoided major explosions.
No one was injured, but the building was destroyed.
Factory co-owner Brenda Palmer tells the Northeast Mississippi Daily Journal that she and her husband are unsure what their next steps will be. An adjoining building survived, but Palmer says the fire destroyed key equipment.
A fire also destroyed a Corinth warehouse Monday.