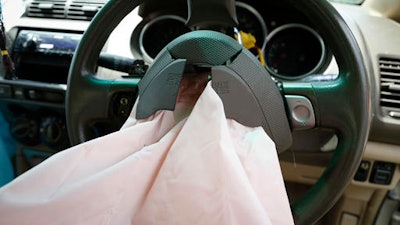 AP Photo
DETROIT (AP) — A woman who was seriously hurt by an exploding Takata air bag inflator is helping Honda's effort to persuade car owners to get the dangerous parts replaced.
Stephanie Erdman nearly lost her right eye when the inflator in her 2002 Civic ruptured in a 2013 wreck. The Air Force officer is appearing in Facebook videos that will be targeted to Honda owners who have yet to get free repairs under the massive Takata recalls.
The videos will be posted Monday. They come just three days after a report found that only 43 percent of Takata inflators have been replaced despite the threat. Nineteen people have been killed worldwide by the faulty inflators.
Erdman testified at a 2014 U.S. Senate hearing on the Takata inflator problem.