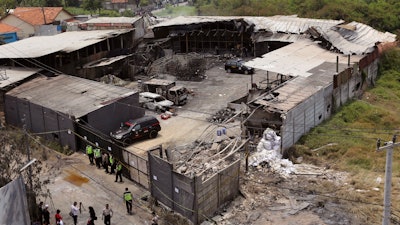 AP Photo/Tatan Syuflana
TANGERANG, Indonesia (AP) — Indonesian police on Friday said they were questioning the owner of a fireworks factory that exploded into an inferno, killing at least 47 people working inside, and have identified one of the victims as a 14-year-old girl.
Investigators were trying to determine the cause of Thursday's fire at the factory in Tangerang, near the Indonesian capital of Jakarta, and said they didn't want to speculate before the investigation is completed.
Pramujoko, head of identification at a police hospital in east Jakarta, said one victim had been identified through dental records: a 14-year-old girl who police said was known as Surnah. The government has said it will investigate allegations of under-aged workers at the factory.
Pramujoko, who uses one name, appealed to the dozens of families waiting for loved ones to be identified to provide the dental information of their missing relatives.
Safety laws are inconsistently enforced or even completely ignored in Indonesia, a poor and sprawling archipelago nation where worker rights are often treated as a lower priority than economic growth and jobs. Most of the factory's 103 employees were young women earning about $3 a day.
"We are now intensively questioning witnesses including the factory owner and manager," said Tangerang police chief Harry Kurniawan.
As investigators tried to piece together what happened, relatives crushed by grief went to a police hospital's morgue in eastern Jakarta Friday morning to identify loved ones.
Officials said bodies were found piled at the rear of the factory and were burned beyond recognition.
"The condition of the corpses was hard to recognize," said Umar Shahab, who heads the medical and health division of the Jakarta police. "They can only be identified through DNA and dental data."
Survivors told authorities the fire started in a section of the factory where fireworks are dried.
Witnesses heard a huge explosion about 10 a.m. Thursday, followed by smaller blasts as orange flames jumped from the building and columns of black smoke billowed across a nearby residential neighborhood.
Drone footage showed about two-thirds of the 65-meter (213-foot) by 40-meter (131-foot) complex was burned, its roof largely collapsed, and a smashed wall on the left side of the main entrance that rescuers had broken down to help people escape.
Survivor Ahmad Safri said the workers had poor working conditions in a hot warehouse with noisy engines, but did not think the building was locked when the fire spread.
"Many panicking workers ran in the wrong direction ... maybe to a generator room that was locked," Safri said.
He said some workers were young women and teenagers, but he was not sure if any were underage.
The legal age to work in Indonesia is 15, but climbs to 18 if the work is considered hazardous.
Kurniawan said police have accounted for the safety of seven of 10 missing workers. One was a woman who left the factory before the fire broke out and two were men who escaped and didn't report to police until Friday morning. Four others were out of town at the time of the fire.
"Last night we met one, a woman who was alive and visiting her friends at hospital. She came to the factory but left for home because she was sick, just before the fire happened," Kurniawan said.
"There are three others that remain unaccounted for. Hopefully they are safe," he said.
Some 46 injured people were taken for treatment at three hospitals. As of Friday evening, 28 remained hospitalized, some in critical condition.
The death toll could rise as many of those who escaped suffered extensive burns, according to police.