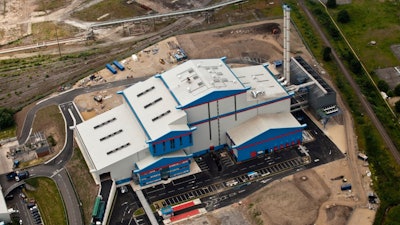 Twitter,‏ @healthandsafety
On October 17, 2014, a shift technician at waste processing company SUEZ Recycling and Recovery in the UK was seriously scalded by hot ash and water. The company processes waste into energy by incineration.
Following a blockage on one of its lines, the worker opened two hatches on a chute which takes the burnt waste away.
He used a metal pole to dislodge the blockage (reportedly a coiled mattress wire), but when it dropped into a cooling pit filled with water, a plume of hot ash and steam erupted from the hatches, causing severe burns to his upper body and face as he turned to escape.
A recent investigation by the Health and Safety Executive (HSE) -- Britain's national regulator for workplace health and safety -- found that SUEZ failed to adequately consider the risk that workers were exposed to during this task, which means the system wasn't sufficient to stop the incident happening.
It was also found the company failed to implement appropriate systems to manage and supervise this workplace activity, which means that the limited measures they had put in place were not followed by the worker.
On June 7, 2017, the waste company was fined about $280,000 (£220,000), and ordered to pay costs of $16,161.94 (£12,695.65).
"Problems often occur in production and it is essential that companies recognize and understand them to prevent them happening or introduce engineering controls and systems of work that prevent people being injured," said HSE inspector Victoria Wise.
According to The Gazette, the worker has fully recovered, but has to stay out of the sun.