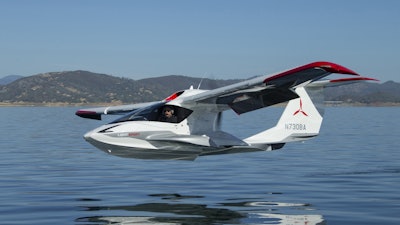 Earlier this week Jon Murray Karkow and Cagri Sever were killed when their ICON A5 amphibious light sport aircraft crashed near the Napa side of Lake Berryessa in California. The remote area was only accessible by boat and had been used as a testing ground for A5s. Karkow was the company's lead aeronautical engineer.
The amphibious aircraft had only recently entered production, and was unique in its forgiving flight characteristics, folding wings, and appeal to recreational pilots. The cause of the crash remains unknown as the National Transportation Safety Board investigates.
Karkow was a highly-regarded engineer that spent more than two decades with Burt Rutan's Scaled Composites, which was well-known for its unconventional aircraft designs. He also worked on Richard Branson's SpaceShipTwo, a commercial suborbital spacecraft, before joining Icon about nine years ago. He is credited with creating the A5's spin and stall-resistant wing design.
The A5 made its maiden flight in 2008, and in 2012 became the first aircraft to meet the FAA's new spin-resistance standard. Made largely of carbon fiber, the A5 can take off from land or water. Its foldable wings and lightweight design also allow for easier storage and transport.
Positioned as more of a weekend getaway plane than a private jet, the A5 sells for $190,000 with a 345-mile range and top speed of 121 mph. The crash is the first fatal accident involving the Icon A5, but does come on the heels of a reported hard landing experienced in April off the coast of Miami.
ICON CEO Kirk Hawkins offered the following statements:
"We have no details on the cause of the accident right now ... The NTSB and FAA have been notified and ICON will be working closely with them to fully support their investigation. This was a devastating personal loss for many of us. The thoughts and prayers of our entire organization are with the families of both people onboard, they were both truly amazing individuals."