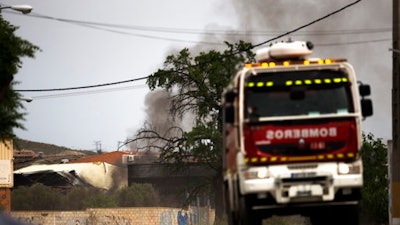 AP Photo/Francisco Seco
MADRID (AP) — A fire and several explosions ripped through an industrial waste treatment factory Thursday in a town near Madrid, sending 30 people to the hospital for treatment and forcing the immediate evacuation of nearby schools and offices, officials said.
The fire at the Requimsa factory in Arganda del Rey sent a dense column of smoke into the air. The blaze caused several explosions and broke windows and damaged buildings nearby. The emergency services said three of the 30 injured were in serious condition, two for burns and one with a fractured pelvis.
There was no immediate information on the cause of the blaze.
Samuel Vadillo, 21, who lives close to the factory, said he heard several loud explosions that broke windows and blew doors open in the house.
"It's a miracle there were no fatalities," he said, adding that he and his mother were told by officials to stay indoors for safety reasons. He said the flames could be seen above nearby houses.
The same factory was destroyed in a fire in 2013.
"It's a little bit suspicious and dangerous that there was the fire in 2013 and now this, because there are houses very nearby," said Vadillo.
The Madrid regional government said people were evacuated from schools and workplaces in a radius of 500 meters (1,640 feet) around the factory but that tests showed the air quality in the region was normal. No one in the schools was injured. The regional government said 11 firefighting units had been deployed and there was no danger of the fire spreading.