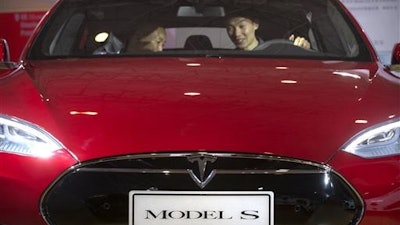 AP file
DETROIT (AP) — Tesla Inc. is recalling 53,000 Model S sedans and Model X SUVs worldwide because their parking brakes may get stuck and prevent the vehicles from moving.
The recall affects vehicles built between February and October 2016. Tesla says less than 5 percent of the vehicles it's recalling may be affected, but it wants to inspect them all to make sure.
The vehicles may contain a small gear that was manufactured improperly by a supplier. If the gear breaks, the parking brake could get stuck in place.
Regular brakes aren't affected by the problem.
Tesla says there have been no accidents or injuries related to the problem.
Tesla will contact owners by mail and start repairs immediately. It expects to have sufficient parts for all of the affected vehicles by October.