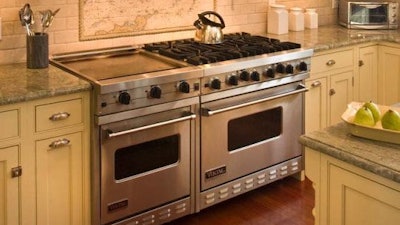 JACKSON, Miss. (AP) — A Mississippi appliance maker has agreed to pay a $4.7 million federal fine for not reporting that certain ovens in freestanding gas ranges could turn on by themselves, with customers then sometimes unable to turn them off.
The U.S. Consumer Product Safety Commission announced the fine Thursday against Viking Range, saying the company had 170 reports of problems with 15 models it sold between 2007 and 2014 before it notified the federal watchdog agency.
The Greenwood, Mississippi, manufacturer was bought in 2012 by Middleby Corp. of Elgin, Illinois.
Viking sold more than 60,000 ranges in the United States and Canada with the defect between July 2007 and June 2014. The appliances were luxury goods, costing between $4,000 and $13,000. It issued a recall in May 2015, saying it could fix the problem with in-home repairs.
Under Thursday's settlement, the company doesn't admit to violating any federal rules.
"Since the Middleby acquisition of Viking, the top priority has been on making the appliances top quality and bringing the latest innovation to all Viking products," Viking President Kevin Brown told The Greenwood Commonwealth (http://bit.ly/2pBH4Jl) in a statement. "We are confident our product quality is the best it's ever been."
A Middleby spokeswoman couldn't immediately be reached for further comment.
As part of the settlement, Viking also agreed to do more to ensure it follows federal product safety law.
The commission wrote that the ovens could get very hot, damaging areas surrounding the range.
"Several consumers called 911 for assistance when they discovered that the ranges had spontaneously turned on and could not be turned off or disconnected," the commission wrote in the settlement signed by Middleby .
Middleby, which paid $380 million for Viking, sued the company's former owners in 2015, saying the sellers hid the problem and didn't set aside enough to cover warranty costs.
In the suit , Middleby alleged it spent at least $30 million on warranty costs and dealings with the Consumer Product Safety Commission, plus "tens of millions" more on Viking to "rebuild its brand image and reputation."
Middleby said Viking knew as early as 2011 that liquid could pool inside the control panels of ranges and cause the oven or griddle to "come on unexpectedly while the control knobs were in the off position."
The suit said Viking's management created special rules for customer safety representatives to handle the problem, and said Viking engineers reproduced the problem at headquarters, "confirming that there was a serious design defect with the ranges."
The former owners deny claims of wrongdoing. The lawsuit is currently scheduled for trial in April 2018, according to Delaware court records.
Last year, Middleby Chairman and CEO Selim Bassoul told investors that the recall was still depressing range sales.
"The recall, it was like a cold shower on everybody," he said on a March 2016 conference call.