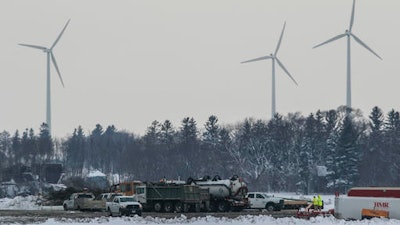 Chris Zoeller, Globe-Gazette via AP
HANLONTOWN, Iowa (AP) — Pipeline officials say far less diesel fuel than feared spilled from a broken pipeline in north-central Iowa.
Magellan Midstream Partners officials initially estimated that nearly 139,000 gallons spilled when the pipeline broke near Hanlontown on Wednesday.
But the company told the Mason City Globe Gazette Monday that it has reported a new estimate of nearly 47,000 gallons to federal authorities.
Magellan spokesman Bruce Heine said the Tulsa, Oklahoma-based company reached the new estimate by calculating how much diesel had to be pumped in to get the pipeline back online.
The 12-inch pipeline returned to service Saturday.
Iowa authorities have said the diesel didn't reach any bodies of water. Contaminated snow and diesel are being hauled to a facility in Minneapolis. David Miller with the Iowa Natural Resources Department said Tuesday that the tainted soil is going to a landfill near Lake Mills, Iowa.