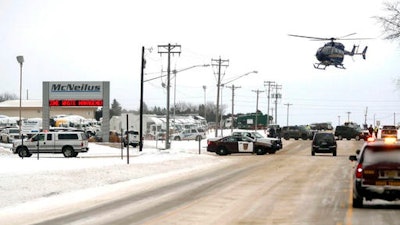 Elizabeth Nida Obert/The Rochester Post-Bulletin via AP
Investigators from Minnesota Occupational Safety and Health will investigate an explosion at a truck manufacturing plant that injured several employees.
Authorities say six people were hurt in the explosion Wednesday morning at McNeilus Truck & Manufacturing in Dodge Center, in southeastern Minnesota.
McNeilus is part of Oshkosh Corp. in Wisconsin. An Oshkosh Corp. spokeswoman says five injured employees were "under medical care." She said she could not give details.
The company will work with local authorities on the investigation.
The plant makes cement trucks and refuse trucks and employs about 1,000 in Dodge Center, a town of 2,700 about 70 miles southeast of Minneapolis.
Mayor Bill Ketchum says, "Anytime you have something like that — big town or small town — it's a tragic thing."
Dodge County Sheriff Scott Rose told reporters that many employees at McNeilus Truck & Manufacturing in Dodge Center who would have been in the area of the paint shop explosion were off-site at a training exercise Wednesday.
The sheriff says it's his understanding "it was quite an explosion." He says all employees have been accounted for.
According to the McNeilus website, the plant has a 145-acre campus with 15.5 acres under a roof.