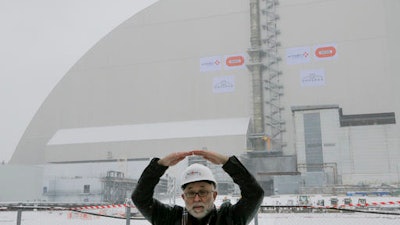 AP Photo/Efrem Lukatsky
CHERNOBYL, Ukraine (AP) — A massive shelter (see photos in gallery) has finally been installed over the exploded reactor at the Chernobyl nuclear plant, one of the most ambitious engineering projects in the world.
The half-cylinder-shaped shelter began being moved toward the reactor on a system of hydraulic jacks two weeks ago and reached its destination Tuesday, a significant step toward liquidating the remains of the world's worst nuclear accident, 30 years ago in what is now Ukraine.
Workers will now begin dismantling unstable parts of the original cover, the so-called sarcophagus, which was built over the reactor shortly after the explosion to contain radiation.
The new shelter is 275 meters (843 feet) wide and 108 meters (354 feet) tall and cost 1.5 billion euros, according to the European Bank for Reconstruction and Development.