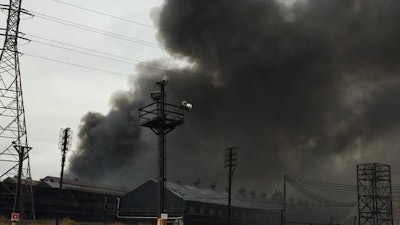 AP Photo/Carolyn Thompson
LACKAWANNA, N.Y. (AP) — A massive blaze at a former steel mill site outside Buffalo has been contained, and authorities say the fire could burn for days.
Fire crews remain at the scene of the blaze in Lackawanna on Thursday morning, nearly 24 hours after it started inside a massive building housing several businesses on the former Bethlehem Steel site. The blaze caused a large section of the roof and some walls to collapse as thick clouds of black smoke covered the area.
More than 100 firefighters from Lackawanna, neighboring Buffalo and other local communities struggled through the day to extinguish the blaze before officials deemed it contained Wednesday night.
No injuries have been reported.
The official cause of the fire remains unknown, but one Lackawanna official said it started when a hot light bulb fell on some combustibles.