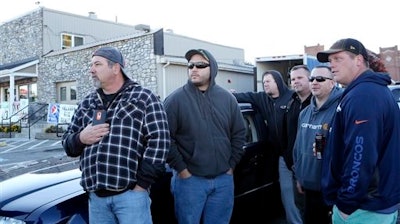 Heather Rousseau/The Roanoke Times via AP
ROANOKE, Va. (AP) — The man who authorities say fatally shot a former co-worker and wounded three others before killing himself at a rail car factory in Virginia was described by neighbors as a good friend and hard worker who showed no signs of violence.
Police say Getachew Fekede, of Kenya, opened fire at the FreightCar America facility in Roanoke early Tuesday before killing himself. They say the 53-year-old entered the U.S. through a refugee immigration program and was fired by the company in March when he stopped showing up for work.
Neighbors said Fekede quit his job because he was being harassed by another man at work. They expressed disbelief that Fekede would commit such violence.
"Everybody was just shocked that he would do something like that," said Frank Myers, who lives in the building where Fekede lived. "He had class. He had intelligence. He was just an exceptionally nice guy," Myers said.
Clarence Jones, another man who lives in the building, called Fekede "the perfect neighbor."
Police said Fekede rode a bicycle to the facility near downtown and somehow entered its paint shop. Officers received a call of shots fired at 6:02 a.m. and arrived two minutes later. But by that time, Fekede had fired 10 rounds from a 9 mm pistol, Roanoke Police Chief Tim Jones said.
One person died at the scene, and two others suffered wounds to their "lower extremities," the chief said. A bullet grazed a third person's chest. Fekede then killed himself, police said.
Two people remain hospitalized. Police said they're not yet releasing the victims' names because some family members are traveling to Roanoke from out of state.
In a statement posted on its website, Chicago-based FreightCar America said it could not provide specific information about the victims but offered its "deepest condolences."
Jim America, vice president and chief human resources officer of the company, said in an email that its investigation of the matter is in its early stages and the company will release more details when they are available.
Chief Jones said Fekede entered the U.S. in 2011 through a refugee immigration program. He said the incident appears to be work-related but the possibility of terrorism will be investigated. Authorities have already checked his Roanoke apartment as part of their investigation.
"All information at this time points to Fekede acting as the sole perpetrator," the police chief said.
Police said Fekede was fired in March after failing to show up to work three days in a row. The chief added that Fekede was known as a "hard worker" and was legally working in the United States.
Jones, Fekede's neighbor, said Fekede complained about a man at work who would intimidate and pick on him. Jones said Fekede transferred to another department but ultimately quit when the problems continued.
"He didn't feel comfortable going to work because he didn't know what this guy may do to him," Jones said. "It was just like this guy just didn't like him," he said. He said Fekede would send money to his mother back in Kenya and had grown concerned about his finances.
Police said at least 50 people were in the building at the time of the shooting, although it's unclear how many were in the paint room with Fekede. The police chief praised the company for its emergency response protocols that helped many escape.
The owner of a nearby bar said he was trying to open up when a police officer told him to go inside and lock the door. Donnie Janney said he didn't realize what was going on until he turned on the TV in Chap's Tavern and saw coverage of the shooting.
Janney said one FreightCar America worker came over for a drink after they were allowed to leave the building and looked a little "shook up."
Janney says he gets a handful of FreightCar America workers as customers and has never seen any trouble there before.
The company opened the Roanoke facility in 2005. It rents the property from Norfolk Southern, for which it also builds railroad cars.
The Roanoke facility and others have experienced layoffs in recent years in what is a cyclical industry depending on demand and cost. News releases and SEC filings from August said the company would eliminate 15 percent of its salaried workforce and adjust staffing levels for hourly workers.