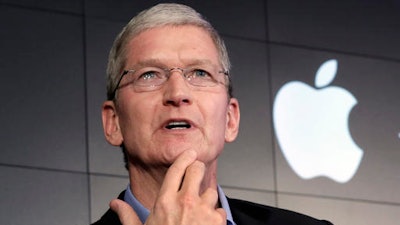 SALT LAKE CITY (AP) — Apple CEO Tim Cook says encryption continues to be one of the biggest issues facing his company, which is not backing down on protecting privacy.
Cook made the remarks at the Utah Technology Council's annual meeting Friday in Salt Lake City.
The 55-year-old Apple chief was there as a guest of Sen. Orrin Hatch and spoke to a standing-room only crowd.
Cook says the company is dedicated to maintaining privacy of customers' information from hackers and government.
He cited the case in which Apple refused multiple times to break into mobile devices of the suspect in last year's mass shooting in San Bernardino, California.
Cook also offered praise for Utah's tech industry, nothing that 50,000 registered developers for the company's IOS platform reside in the state.