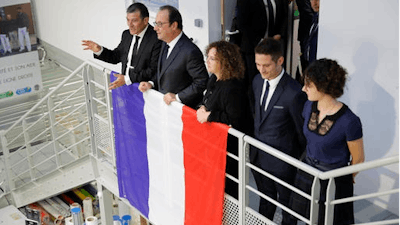 REUTERS/Philippe Wojazer/Pool
DAMMARTIN-EN-GOELE, France (AP) — A printing plant north of Paris reopened Thursday for the first time since it was badly damaged during a deadly standoff between police and two brothers who gunned down cartoonists at Charlie Hebdo newspaper.
President Francois Hollande presided over the re-opening in a sign of the national significance of the drama that unfolded there in January 2015. It was among a string of Islamic extremist attacks that have rocked France.
After visiting the now-rebuilt printing plant in the suburb town of Dammartin-en-Goele, Hollande honored the two men who were taken hostage that day with the Legion of Honor.
Michel Catalano, owner of the plant, was released by the two heavily armed attackers nearly two hours into the police siege. Lilian Lepere, a graphic designer, remained hidden in a tiny space under a sink for more than eight hours before an elite unit killed the two hostage-takers and released him.
Hollande hailed the "two French citizens who have shown the greatest courage" in the face of a fearsome ordeal. He said the printing plant was both a "symbol of barbarism" and a "symbol of what the human will is able to do" in rebuilding a nearly destroyed plant and reviving a suddenly halted business.
"We are always threatened by terrorism," Hollande said during the ceremony.
Catalano, who gave a first aid to a wounded attacker, said that "barbarism will not make me head down" in a moving speech, his voice breaking with emotion and with tears in his eyes.
"It's a constant struggle against myself. Actually it's a struggle I've been going through for the past 20 months," he told The Associated Press. "There are difficult times but I know we can overcome that, and this is the image I want to give."
The two attackers, brothers Cherif and Said Kouachi, led police on a two-day manhunt after attacking Charlie Hebdo, then hid out in the printing plant. Police surrounded the building and the brothers were killed in a shootout after a day-long siege. At the same time, another attacker, Amedy Coulibaly, was taking more hostages in a kosher supermarket in Paris. He was also killed when police raided the store.
The attacks that week on Charlie Hebdo, police and the kosher market killed 17 people.