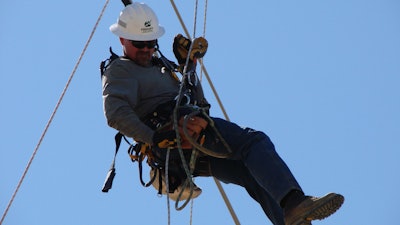 Flickr
In construction and other industries that require work at heights, falls are a serious problem, but they don't have to be. According to OSHA, in 2013 alone, there were 291 fatal falls to a lower level, which took up a great deal of the 828 total fatalities in construction that year. In this industry, falls are the leading cause of death, but they are practically always preventable.
The simplest way to reduce the frequency of falls is through proper worker training. If workers are well aware of the safest practices, they are far less likely to fall from unsafe heights. However, even with this ingrained drive for security, the possibility always remains for an accident to occur. Therefore, it is essential to prepare adequately for every job, using the correct equipment to keep workers safe. Specifications for fall safety equipment and protection systems are covered in the ANSI/ASSE Z359 series of standards. These have been bundled together into the ANSI/ASSE Z359 Fall Protection Code Package Version 3.0.
Each of the documents in the package covers a different aspect of fall arrest systems or fall safety equipment. Some of these are broad and generally overarching, such as ANSI/ASSE Z359.1-2007, which "establishes requirements for the performance, design, marking, qualification, instruction, training, inspection, use, maintenance, and removal from service of connectors, full body harnesses, lanyards, energy absorbers, anchorage connectors, fall arresters, vertical lifelines, and self-retracting lanyards comprising personal fall arrest systems." Z359.0 also takes a broader scope, but for less-technical reasons; the document defines the terms necessary for comprehending a reliable fall protection system.
Other standards in the Z359 series take a more-concentrated scope, generally detailing specifications for a specific type of equipment or method that was mentioned in Z359.1. For example, ANSI/ASSE Z359.3-2007 gives guidelines for practically everything related to the lanyards and harnesses that are used for personal positioning and travel restraint systems. While this document does address all aspects of this one system, it also mentions that it "shall not be used as a primary fall arrest system." It is essential that each of these standard documents be used to complement one another.
Ultimately, compliance with all of the standards in this package provides worksites with much needed security, saving lives in elevated work environments.
ANSI/ASSE Z359 Fall Protection Code Package Version 3.0 is available on the ANSI Webstore.
Brad Kelechava is marketing product specialist for ANSI, The American National Standards Institute. For more information on ANSI, visit www.ansi.org.