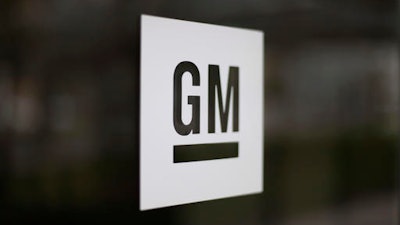 DETROIT (AP) — General Motors Co. has settled two federal court cases related to its defective ignition switches, but its legal troubles stemming from the switches are far from over.
GM settled the cases for an undisclosed amount, plaintiffs' attorney Bob Hilliard said Monday. In both cases, the plaintiffs said they sustained serious injuries when the air bags in their vehicles didn't deploy. GM has acknowledged that ignition switches in older cars could fall out of position without warning and shut off the engine and air bags.
The cases are among several so-called "bellwether" trials that are testing the legal boundaries of hundreds of claims against GM. So far this year, one federal bellwether case was dropped before trial, GM won two, and three have been settled.
Three more federal cases are scheduled to be heard next year, and one is scheduled for January 2018, GM spokesman Jim Cain said.
GM also has been trying some bellwether cases at the state level. In one of those cases, a Texas jury decided last month that a GM ignition switch wasn't to blame for a 2011 fatal crash.
GM knew about problems with the switches for more than a decade before it finally recalled 2.6 million small cars worldwide in 2014 to replace the defective switches. The switches are responsible for at least 124 deaths and 275 injuries, according to a victims' fund set up by GM and administered by attorney Kenneth Feinberg.
GM has paid nearly $875 million to settle death and injury claims, including $600 million from Feinberg's fund and $275 million to settle 1,385 separate claims. It also has paid $300 million to settle shareholder lawsuits. But many others are pursuing their claims in court.
Carl Tobias, a law professor at the University of Richmond, said that so far GM seems to be willing to try the weaker plaintiffs' cases but settle the ones that are stronger. But the company has a long way to go before it resolves all of the cases, he said.
In addition to the cases already scheduled, GM could be facing lawsuits from victims whose alleged injuries occurred before GM's 2009 bankruptcy. In July, a U.S. appeals court ruled that GM's bankruptcy can't shield the company from those lawsuits. GM is appealing that ruling. Hilliard said at least 133 pre-bankruptcy cases could be brought against the automaker.
Hilliard said the settlements announced Monday create "momentum" as the company and plaintiffs continue to try to resolve the cases before them. For its part, GM said it shares plaintiffs' goal of "a fair and timely resolution of lawsuits."
The cases settled Monday both involved women who were driving at low speeds. In the first case, Stephanie Cockram was driving her 2006 Chevrolet Cobalt home from a friend's house in Virginia on June 28, 2011, when she lost control of her car and hit a stone wall. Her air bags didn't deploy. Cockram suffered a closed head injury, broken jaw and broken hip.
In the second case, Amy Norville lost control of her 2003 Saturn Ion in Kentucky on Nov. 21, 2013, when she swerved to avoid hitting a deer. Norville couldn't regain control of her vehicle and crashed into a tree, but the air bags didn't deploy. Norville broke her sternum and suffered multiple neck fractures.