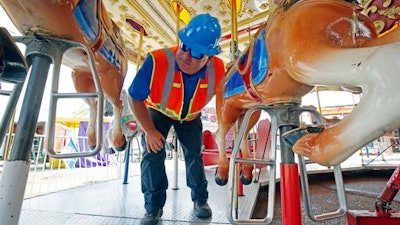 AP Photo/Rogelio V. Solis, File
NASHVILLE, Tenn. (AP) — In some parts of the U.S., the thrill rides that hurl kids upside down, whirl them around or send them shooting down slides are checked out by state inspectors before customers climb on. But in other places, they are not required to get the once-over.
The grisly death of a 10-year-old boy on a Kansas water slide and a Ferris wheel accident that injured three little girls at a county fair in Tennessee this summer have focused attention on what safety experts say is an alarming truth about amusement rides: How closely they are regulated varies greatly from state to state.
"Fifty states in the United States of America and no two inspect rides the same way. That's wrong," said Ken Martin, an amusement park safety consultant who has been one of the loudest critics of the nation's patchwork of state laws. "We're not close to being in the same book, state to state. We're not even on the same page of the hymnal. We certainly aren't singing in key."
Twenty-nine deaths on amusement rides or water slides have been reported to the U.S. Consumer Product Safety Commission since 2010, spokeswoman Patty Davis said.
The amusement park industry has successfully lobbied against federal oversight for decades, and the CPSC doesn't regulate rides at permanent parks like the one in Kansas. It oversees only traveling carnival rides, like the Ferris wheel that broke in Tennessee. Even then, federal investigators don't conduct routine inspections; they respond only after accidents.
So whether a ride has to be inspected before thrill-seekers hop on depends on what state it's in.
Six states — Mississippi, Alabama, Nevada, South Dakota, Wyoming and Utah — have no laws at all that require inspections, according to Saferparks, a nonprofit group that pushes to improve safety. In most cases, the ride operators' insurance companies require only annual inspections, Martin said, and the insurers set the criteria.
Kansas and Tennessee are among the many states that have light regulation. Kansas mandates annual inspections but allows a park to perform its own, using private, licensed inspectors. The state does random audits of the paperwork.
Tennessee follows a similar self-inspection protocol. The state relies on private inspectors hired by operators or accepts inspections conducted on traveling rides in other states.
On the other end, New Jersey is considered one of the toughest for its cadre of state-trained inspectors and engineers who routinely inspect rides. Pennsylvania, likewise, has a rigorous system that includes more than 1,000 state-trained inspectors.
Martin and others say the federal government should operate something equivalent to the Occupational Safety and Health Administration, which protects workers on the job. He says the government has a duty to set uniform standards for rides, such as mandatory inspections and training protocols for inspectors.
But David Mandt, a spokesman for the International Association of Amusement Parks and Attractions, a trade group, said that injuries are rare and that a federal program of inspectors would cost taxpayers millions.
"We believe strong local and state regulation is the most effective government oversight for the industry," he said in an email. "The states need the flexibility to create and enforce laws relevant to the attractions in their state, and that's what they have done."
In the Kansas accident, Caleb Schwab was decapitated on the world's tallest water slide on Aug. 7. Authorities have yet to say what went wrong, but at least one rider has reported that the nylon harness straps came loose on previous trips down the slide.
In Tennessee, a Ferris wheel gondola overturned, spilling three girls more than 30 feet to the ground. One, a 6-year-old, suffered a traumatic brain injury. Authorities blamed worn-out rivet fasteners on the underside of the carriage.
How much of a difference tougher regulations make is difficult to say. No agency collects uniform statistics on accidents or injuries from state to state. The figures available are all estimates extrapolated from a sampling of accidents.
The CPSC estimates that 37,300 people of all ages went to emergency rooms in 2015 after being injured on amusement rides, a category that includes bounce houses, mechanical bulls and other attractions. That number is based on reports from some hospitals.
Dr. Gary Smith, director of the Center for Injury Research and Policy at Nationwide Children's Hospital in Columbus, Ohio, analyzed the data from between 1990 and 2010 and estimated that an average of more than 4,400 children per year are injured on rides at amusement parks and water parks.
Smith said researchers need better numbers on the scope of the problem and its causes if they hope to come up with solutions. "This is a public health problem, and we need to treat it like a public health problem," he said. "That starts with a national approach to collecting data."
The CPSC regulated both traveling and permanent amusement rides until 1981, when Congress limited the agency's authority to traveling carnivals. Lobbying records dating to 1999 show that the trade association has spent about $11.3 million lobbying Congress.
State laws also draw opposition from industry representatives.
Steve Geller, former Democratic minority leader in the Florida Senate, remembers facing industry lawyers when he proposed inspection requirements following a 1988 accident.
"I'm speaking semi-tongue-in-cheek only when I say I had to fight the carnival-industrial complex," he said.
Florida set pretty high standards: State inspectors look at most rides routinely. But there is an exemption for parks with more than 1,000 employees that have their own full-time inspectors — like Disney, Universal and SeaWorld.
The public tends to howl for regulation after major accidents.
In 2004, June Alexander, a 51-year-old woman who took her son to an unregulated, roadside amusement park in the Great Smoky Mountains to celebrate his 15th birthday, plummeted more than 60 feet to her death from a swinging gondola ride in front of her family. Her harness had failed to engage. An investigation found that the ride's safety system had been bypassed. The park's manager was convicted of reckless homicide.
Tennessee legislators scrambled to pass laws that required operators to have insurance, permits and inspections. "We thought some good had been done," said R. Price Nimmo, an attorney who represented the Alexander family.
But by 2014, a state audit found the ride inspection unit was failing. In response, the state decided to stop inspections altogether and rely on operators and other states' regulators.
So when an amusement company took apart a Ferris wheel in Indiana, drove it to Tennessee and put it back together at five county fairs, no one from the state checked to be sure it was in working order. The state relied on the Indiana inspection and gave it permission to start spinning. It broke at the Greene County Fair last week.
Republican Gov. Bill Haslam said last week that it was too soon to say what the state might do in reaction to protect riders.
Nimmo held out little hope that the accidents will result in lasting reforms: "There will be a big furor. Then two years from now, they'll be back to doing what they were doing before."